Back in the day, I wasn't the BIGGEST New Edition fan. I'm not saying I wasn't a fan at all, I did like their music but I wasn't "fanatical". When Bobby Brown left NE to pursue a solo career, I was a big fan of his music. I remember playing his music a lot, learning all the dance steps in his videos especially for Every Little Step! When my friend,
Ann Marie
said that the one and only Bobby Brown would be performing at
BB King's
during my visit to
NYC
, I was excited but more curious then anything. I didn't even really know that he still performed! With all the turmoil in his life, I wondered if he could really pull this show off and how he would be vocally. As we made plans to go,
Ann Marie
and I agreed that the show would either really impress us or give us a good laugh.
We got to the venue at a good time which was about 7:30 or so and were able to get a good spot right up front. There was a DJ spinning while we waited and he entertained us for a while….actually maybe a while is an understatement. The show started extremely late. To our surprise, Johnny Kemp came onstage to bring Bobby out and end up singing his hit, Just Got Paid.
Johnny Kemp!

When Bobby finally hit the stage, the place erupted! I have to say Mr. Brown still knows how to put on a show. He was backed by a full band and they sounded great.
Set List:
Don't Be Cruel
Humping Around
Get Away
Roni
On Our Own
The Man
Every Little Step
Rock Witcha
My Perogative
The most awkward part of the show to me was when Bobby decided to perform a country song. I didn't know this but apparently he was a part of this country music reality show and had to write a song. He said he didn't win but felt that he wrote the best song because of the emotion he put into it. The song was called The Man and packed with emotion it was. I just don't think it was a good move on his part to perform it because as I looked at the crowd, everyone looked puzzled or bored for the lack of a better word. I did feel kind of sorry for him though because he did put a lot of emotion into the song.
The best part of the show was…well, it's kind of hard to say. I loved seeing him perform all of his hits and play with the crowd. At one point, he even brought up a lady on stage for Roni.
I guess if I had to pick a moment, it would be during his last song of the night, My Perogative. I felt everyone was anticipating this song and at one point he brought his son up on stage to dance with him a bit.
I'm so glad I caught most of the show on video and I'll share a few here but to see the rest, you can go over to my youtube channel:
http://www.youtube.com/ladyvee76
. Because I was busy filming, I didn't take any pics but I did post a few shots courtesy of my girls,
Ann Marie
and
Trelly
. ENJOY!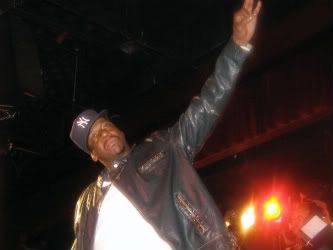 "Don't Be Cruel" Bobby Takes The Stage!

Bobby Slowin' It Down With "Roni"

"Every Little Step" Bobby Bustin' Some Moves

Finale! "My Perogative"