I've wanted to go to New York for awhile now. Since I've been so stressed with what's been going on in my world, I decided to see if I can plan a trip. My girl, Ann Marie offered to be my guide and then everything pretty much fell into place from there. I also found out that there was music festival going on when I planned to go. My friend, Kam Moye aka Supastition had a show and so did Foreign Exchange.
Leading up to my vacay, things had become difficult for me to handle. Work was extremely hectic and stressful and things at home with mom's sickness really were taking its toll on me. I went through bouts of guilt for leaving home especially since mom hadn't been feeling well. I was burning out, fairly down and emotional too. I considered canceling my trip countless times. Numerous friends had told me that I needed a break badly in order to take care of myself and even though I knew they were right, the guilt still burned in my chest. The week before I was scheduled to leave, I was a mess. I was crying myself to sleep more times than not and I had my first ever panic attack at work. I really have to thank my friends for helping me through this…most notably Yahzarah. I was at work, breaking down crying and having trouble settling down. I was on twitter being negative and she blackberry messaged me to check on me. When I told her what was going on, she started to give me encouragement. Then Yahz told me she would pray for me right then, instructing me to bow my head and read. As I read her words, the tears slowed to a stop and I began to calm down. I'm am soooo unbelievably thankful to her!
Finally the day came and I got to New York with no problems. At first I was nervous taking a cab from the airport to my hotel because I had no idea where I was going but it was fine. The hotel Ann Marie suggested was nice and had a great room with a comfy king sized bed. My first night, we went to SOBs for an event called SolVillage that was hosted by one of my most favorite singers, Eric Roberson. There was a line up of about 7 or so independent artists and it was great! I even got to chat with Eric a bit when he took a seat next to me but as usual, I was too shy to ask him to take a picture with him. I regret that now, of course! Going home I was a tad nervous because I had to take the subway on my own to get back to my hotel. Even with Ann Marie's directions, I thought I got lost for a bit but eventually found out that I was on the right track! LoL! My legs, mostly my ankles were killing me with all the walking, going up and down stairs in the subway. We were also standing most of the night too!
The next day, Ann Marie and I met up later because we were tired and I was basically nursing my swollen ankles. She took me to the pier where I got a glimpse of the Brooklyn Bridge. It was gorgeous there!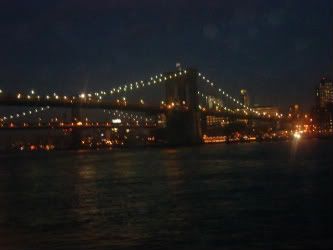 We then took the train over to Tribeca to catch the Global Hip Hop Throwdown which featured a bunch of hip hop artists from all over the world. It was a pretty venue with a nice vibe. We didn't stay for long but the artists we did catch were great. Then we jumped on the subway to Brooklyn to another club called Southpaw. This was the night that I was going to see Kam perform. I was super excited to see him because we had never met in person and we've gotten so close over the years that I consider him one of my closest male friends. I had never had the pleasure of seeing him on stage either. We got there a few minutes before he took the stage and it was packed! I was a little disappointed that I didn't get to film his performance which was amazing! It made me feel proud to know him as I watched him perform and was happy to know that Ann Marie was also impressed. After his set, he came out and we finally met. We ended up going outside because it was so packed and warm. While Kam got stopped by some fans, I noticed a bunch of my boys from NC hanging out: Big Dho, Chaundon, Joe Scudda and Rapper Big Pooh so I went over to say hi. I was happy to see Pooh most of all because I hadn't seen him since he came to Toronto for the Little Brother show back in October 2008. Eventually Kam came back to Ann Marie and I and we just ended up hanging out, talking for awhile. It was really good seeing him.



Kam & I in Brooklyn





Friday was our longest day of all! We were set to see Bobby Brown (from New Edition...the one who was married to Whitney! Yes really! Lol!) and Foreign Exchange. I won't say too much about the shows in this entry because I will be posting my take on the concerts complete with pictures and video at a later date so stay tuned for that! The good thing about both shows was they were at the same venue, BB King's. First, Ann Marie and I had lunch at BBQs in Times Square. If you ever have the chance to, eat there! Wow, their wings are amazing…not to mention the Texas sized mango margarita that got me a little woozy cuz it was pretty potent!



After that, we hit Canal Street which is where I went crazy buying purses! LOL! By the time we headed back to the hotel, I had gotten 6! A black Gucci purse for mom, a black and brown Coach purse, a black leather Louis Vuitton purse plus 3 Coach wristlets! I know, I know…I'm aware of my addiction and frankly, I don't care. I was especially proud of the LV bag because I talked the dude down from $55 to $40!
After chilling out in my hotel for a little while, Ann Marie and I headed back over to Times Square. We got to BB King's at a good time because we were able to get a good spot in the front. It was there that I met Ann Marie's friends, Trelly, Joann and Will who were all really great people.



Ann Marie, Trelly & I @ BB King's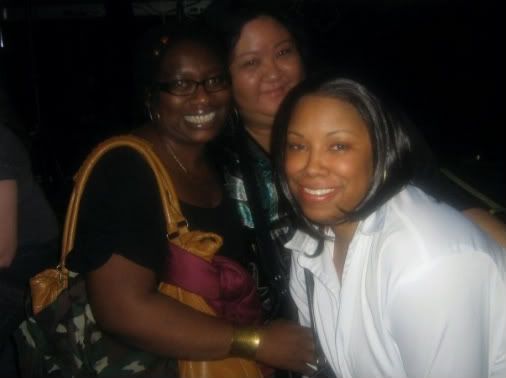 We were all curious of what Bobby Brown to the stage. We thought either he'd be really great or the show would be jokes. Despite coming to the stage REALLY LATE, Mr. Brown definitely did his thing! I was quite impressed with his performance! As I mentioned earlier, a more detailed report to come!
Apparently, it took awhile for Bobby and his entourage to clear the backstage area after the show which made Foreign Exchange late for their show as well. We got a good spot to stand once again, this time more centered and waited. My legs were like rubber, so sore and almost ready to give way. While the place started to pack up, I was leaning on the stage for support. They didn't hit the stage until about 1am! It was great show and fun was had by all…show pics and vids to come!
I met a number of people that night at BB King's. Of course, I saw some of the boys I saw the night before plus Darien, Zo, Yahzarah, Tay, Nic, Aimee and Carlitta.



Here's a few pics right after the show: Zo being silly!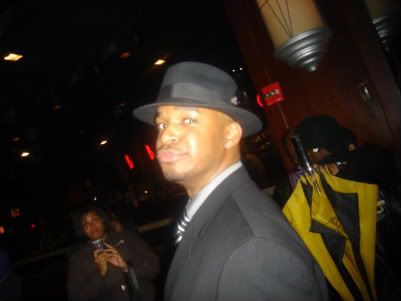 Ann Marie & I with Zo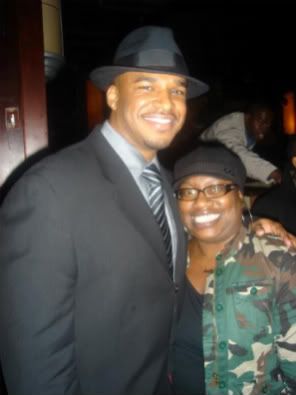 Ann Marie, Trelly & I with Darien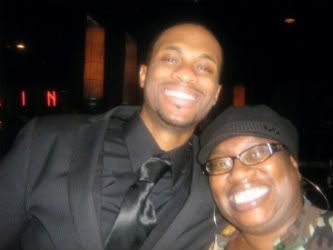 Me with Big Pooh & Jozeemo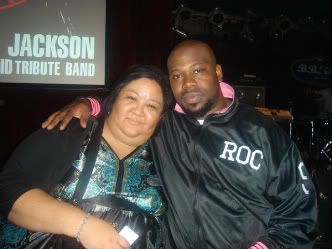 I met Brandi who I had been in touch with lately since she posted about Darien and I on her website, musicaddikts.com. She made the trip up from Atlanta to see the show. She's a sweetie. Most notable were the amount of members from Darien's Facebook Group I met. I was approached by a bunch of folks asking if I was Lady Vee, talking to me on how much they appreciate what I do and some even asked to take a picture with me! I was floored. Never did I think that starting the group would be like this! I was overwhelmed with the love even up until now.



Me with D-Brock Group Members: Reggie


Keith asked to take a pic with Big Pooh & I


The other thing that happened was when I had the chance to say hi to Darien and gave Ann Marie my camera so we could take a picture. While we posed, a few of the same people went to stand with Ann Marie to take our picture too! D and I got a bit confused as to which camera to look at! Lol! I'm glad it happened though because Keith, one of the member's pictures turned out wayyy better than the one I got with my camera!



Keith's photo of Darien & I


Darien and I planned to film another video blog so since everyone was still busy meeting and greeting with the fans, Ann Marie and I found a booth to sit in. Our feet were very grateful! Soon, Yahzarah came over struggling in her high heels wanting to sit down with us.



Ann Marie & Yahzarah chillin' in the booth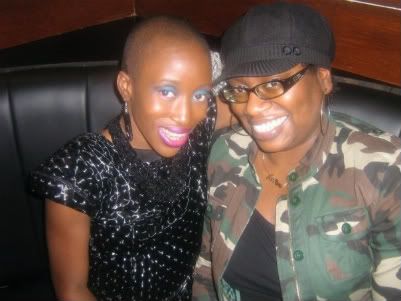 Yahz then started to ask if I was enjoying myself, how I was and how my mom was doing. We talked quite a bit about it and I felt the emotion building up in me because it's not often that I get to talk about how I've really been dealing with all this. I managed to keep it together as Yahz told me about a similar situation that she's dealing with and was giving me encouragement and advice. I began to thank her especially for the prayers she gave me a week ago then it hit me, the tears started to fall and I started to feel a bit shaky. I immediately covered my face with my hands, trying to desperately to stop. Next thing I know, I heard Darien's voice say, "Is she crying? Aww, who made my boo boo cry?" and I felt him stand beside me. I couldn't even talk. Ann Marie and Yahz explained what were talking about. I just leaned on him and he put his arm around me. Thankfully, I recovered quickly and no one else saw me…at least I don't think anyone did.
Eventually, security started to clear out the club. Ann and I ended up hanging out backstage with Darien, Yahzarah, Carlitta. We were all just talking and joking around. Ann Marie filmed D and I for our blog. It was a little frustrating to us though because when you see the video, you mostly hear this one girl talking throughout the whole thing. I actually don't know who she was but she was hanging out with us there too. We had fun nonetheless.




I ended up filming a bit of Yahz joking around and singing too. She had changed in this gorgeous dress so Ann and I took pics of her.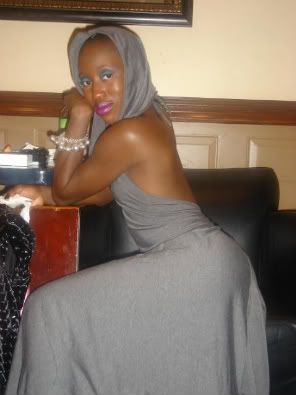 Yahz then ended up putting a scarf on her head and we told her she looked like Mother Mary. All of a sudden, she busted out singing a bit of Ave Maria but she forgot the words! Lol!





Yahz using her "healing power" on me! LOL!


Then she started begging me for snacks so I took a pic of her doing that. One thing I know about Yahz is that she LOVES her snacks! It was hilarious.



Then Phonte came into the room and we took a few shots of him. He had this great shirt on with a pic of a woman's ass on it so I took pic and entitled it: "Tay Feeling On Some Ass Backstage".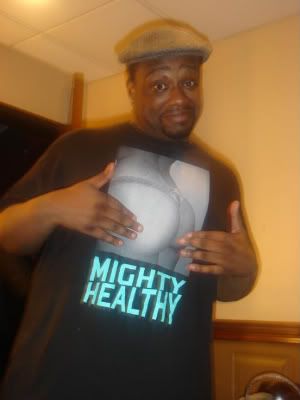 The last pic Ann Marie took of him was Tay when he grabbed Yahzarah's ummm, silicone inserts…ahem..off the counter. (I guess that's the best way to explain it! Lol!) Yahz even posed with him! We were dying with laughter!



We left the venue with them and I got back to my hotel sometime well after 5am! I was struggling too! My legs just had it! My ankles were swollen twice their size!



Here's more shots from backstage: Yahzarah & I


Carlitta & I


Ann Marie snuck a pic of Darien & I checking out the video we took


A self portrait of me & one of my most favorite people :)


My last full day was Saturday and we took it easy. Ann Marie took me to Harlem for some shopping then eventually ended up in Times Square. It was rainy all day and at one point it was really pouring down! I was soaked! After a great dinner, despite a rude person sitting behind Ann Marie (he kept clearing his throat etc. It was disgusting!), I decided that I had to buy an umbrella. I really wanted to walk around Times Square especially since I didn't get to do too many 'touristy' things during my stay. We scurried over to a souvenir shop and I bought an umbrella. Low and behold, pretty much right after I bought it, it stopped raining so I didn't even use it! It actually turned out to be a nice night. I found the lights mesmerizing. I loved it and thought, "Now this is the New York I've been wanting to see…well part of it at least!" Lol!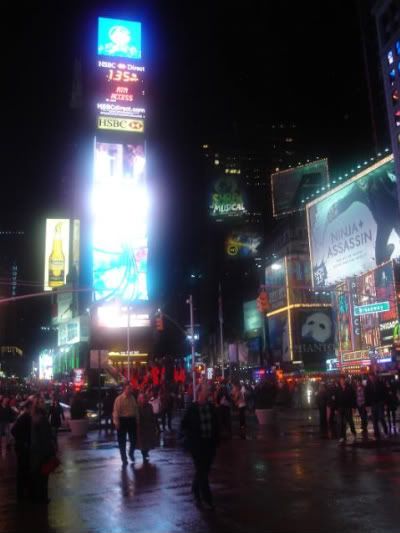 We went in a couple of stores too. The M&M store was sooo cute! I had to take a pic with the big yellow M&M in there. We wanted to take one with me kissing it but I could hardly stop laughing!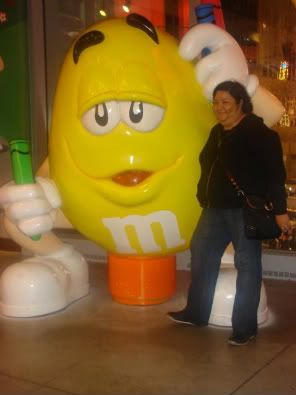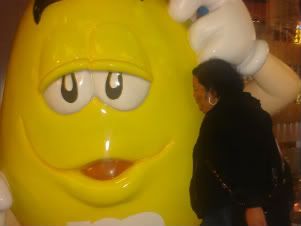 Soon, it was time to start my journey back to the hotel to pack and I started to feel sad about leaving. I was really in a pout as Ann Marie and I started to make our way to the train.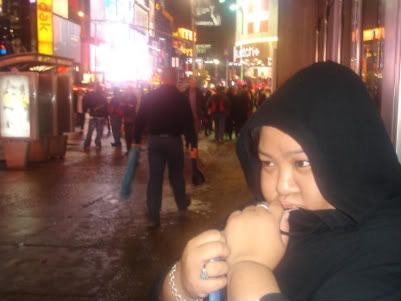 My NYC experience is one I will never forget and Ann Marie was a HUGE part of that! I love you, girl! Thanks so much for taking care of me while I was there and know that you have a BFF in me! Xoxo