If you know me or are a regular visitor here, you know that this is not the first time I've had the pleasure of taking in a
Foreign Exchange
show. This show was extra special for me though. First, I was in a city that I've always wanted to see. Second, this was my first time seeing them since they added
Carlitta Durand
to the lineup and lastly, the show was at a legendary venue,
BB King's
. When I've told people that weren't necessarily familiar with
FE
that they were performing there, they were impressed. Everyone knows about
BB King's
.
This show was slated to be a late show and boy, was it late! It was through no fault of their own though. Bobby Brown had the show previous to them and since he started late, it pushed everyone else back.Once the band hit the stage, it was OVER!
The first song was
Nicolay
's lead single off of his album, Shibuya called Lose Your Way.
Carlitta
came out to start things off and was later joined by
Phonte
,
Yahzarah
and
Darien Brockington
.
Lose Your Way

The show was filled with good music and great vocals. Even though this was my 5th show (yes, 5th!
Zo
especially likes to tease me about that! LoL), each show I've seen had different elements. They performed Curtis Mayfield's Give Me Your Love as
Phonte
introduced everyone on stage. A funny moment during this set was
Phonte
forgot to introduce
Zo
initially and
Darien
had to remind him.
Zo
playfully got up from the keys and threatened to leave!
FE Top 7 Give Me Your Love Countdown (Band Intros)

They had a little fun showing their dance moves during a reggae music set and expanded their "Ignant Songs To Neo Soul" bit which had everyone cheering and laughing. They were so excited about performing after Bobby Brown that they did a medley of his hits.
Phonte
also mentioned everyone's Twitter accounts then broke out into the classic house track Follow Me in a new follower campaign. I'm also so glad they added Purple Flip to their set which is a tribute to Prince that
Phonte
,
Nicolay
,
Zo
and
Carlitta
did with ?uestlove. It was great to hear that song live.
Reggae Vibes With The Foreign Exchange

Purple Flip

Foreign Exchange
also had a couple of surprises up their sleeves as well.
Rapper Big Pooh
of
Little Brother
came out to perform Nic's Groove and Life of the Party. It was great seeing Tay and
Pooh
together onstage again. It brought me back to the
LB
shows that I had been to over the years. This was significant too because apparently, there were rumors circulating that
LB
is done and even that
Tay
and
Pooh
were not even on speaking terms. Later on in the show,
Joe Scudda
graced the stage during Raw Life which was great as well because I had never seen perform before.
Life Of The Party With Rapper Big Pooh

Zo! & The ELs Interlude/Raw Life With Joe Scudda

Set list:
Lose Your Way
House of Cards
Sweeter Than You
FE Top 7 Give Me Your Love Countdown (Band Intros)
Bobby Brown Medley
Nic's Groove
I Wanna Know
Come Around
Follow Me (Impromptu House Track)
Daykeeper
Take Off The Blues
Valediction
Zo! & The ELs Interlude/Raw Life
Reggae Set
Ignant To Neo Soul
Purple Flip
Life Of The Party
Something About You/Step In The Name Of Love
My favorite moments of the show were pretty much mentioned earlier and the great thing is I have it all on video! I'll post my faves here but as always, you can see the rest at
http://www.youtube.com/ladyvee76
. The pictures are a collection of shots from myself,
Trelly
and
Ann Marie
.
The Show Stopper, Yahzarah


Our Friend Will Getting Serenaded! LOL!


The Suave Darien Brockington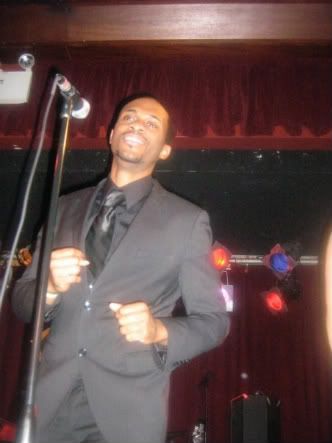 The Lovely Miss Carlitta Durand


The Beast On The Keys Zo!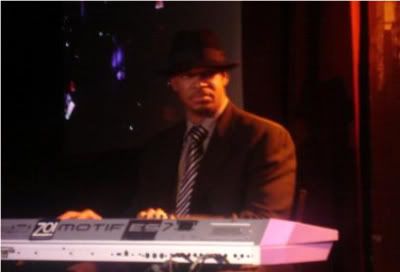 The Mastermind Nicolay


The Frontman Phonte


The "Sangers" Doing What They Do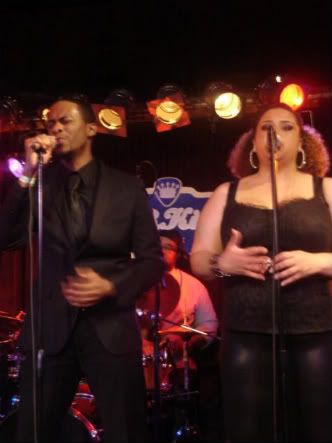 I cannot say enough good things about
Foreign Exchange
or seeing them live but at the same time, I have no words to describe how much you NEED to see them. You just really have to experience it yourself. Even if you aren't familiar with
FE
…if you like to be thoroughly entertained and consider yourself a fan of R&B/Soul and Hip Hop, I guarantee that you'll be a fan of
Foreign Exchange
by the end of the show.