So my boy,
Darien Brockington
released his mixtape,
The Cold Case Files
on Dec 29th. Is this a big deal? Of course it is! It's been 3 years since
Darien
put out anything. His first album,
Somebody To Love
came out in 2006. I've already written my professional review of the album so this will have a more personal touch. Before I get into it though, let me share that review with you:
click here
. Doing that was a huge deal for me. I've honestly been going through a really rough time personally and haven't been motivated or felt creative. I actually thought my creativity was gone because I was really down. Well, I learned that the creative me is stronger than I thought. Many assumed that it was easier to write it because I know
Darien
so well but in all actuality, it was that reason that made it even harder for me! To not write in first person was difficult as well because I'm so used to here where I don't really have any boundaries. I also was worried about sounding biased because so many people associate me with
Darien
now. When I did publish it, D asked to see it and when I sent him the link, I thought I was gonna be sick! I'm extremely protective of my writing so I was nervous and even more so because the article was about him. He LOVED it and I was so relieved! The more and more feedback came in, the more at ease and proud I felt. The first time I read it on the site, I actually thought, "Wow! Did I write that?" Lol, silly, I know! Then
Eric
who runs
Soulified.com
tells me that the amount of traffic and registered users increased because of my post! WHAAAT? I couldn't believe it...then when I went into the admin page, I saw this image: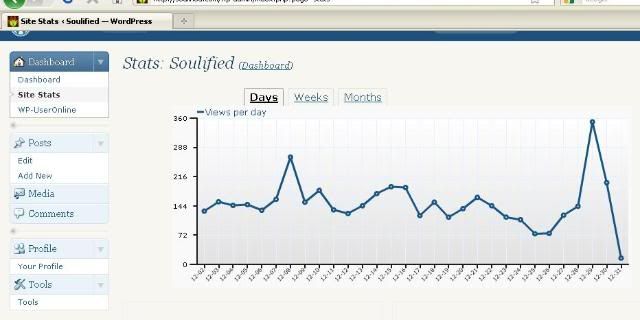 Now I assume my readers are smart and can figure out that the highest point on the chart coincides with the date of my post, right?? Okay, good! Lol! Huge shouts go to
Eric
, thanks for being understanding and giving me the opportunity to post on
Soulified.com
! :)
Okay, now back to the music!
Making the assumption that you read my
review
already, what else can I add to it or say that I didn't already? Knowing
Darien
personally gives me a different perspective, I think. He had gone through so many ups and downs since he released his
1st album
.
The Cold Case Files
takes you on that journey and is really personal. I'm so happy (I'm sure his fans are too!) that he finally came around and release something.
I'm not going to do a full review but breakdown the tracks I have in heavy rotation right now.
Meet Me In Paris

- So it's a few days before the release and I get the zip file from D and I'm all excited. I get to this song and at first I was like, HUH?? Lol! After the initial shock of hearing Darien sing over this guitar driven track, this song ROCKS! Pun intended! It quickly became one of my favorites.

Compass

- There is just something about this song that is so sexy to me. I can barely explain it. "

I'll Use Your Body As A Compass

"...I mean, c'mon on!!! The beat is heavy yet smooth at the same time, it's just lovely.

It's Over

- My boy, E. Jones produced this track. E also produced most of Somebody To Love. This beat is rich and heavy as Darien sings this breakup track. "

There Can't Be No You & Me. It's Not What It Used To Be. I Hate To Be The One To Say It's Over

..."

Girl It's You

- Some may be familiar with this track. I actually gave it out as a free download to the D-Brock Facebook Group a little while back. To me it's reminiscent of the times when I first fell in love with the "slow jam"...y'know back when things were just sexy not raunchy but suggestive? This is # 3 in my top 3 D-Brock slow jams, # 2 being I Miss You from Somebody To Love...stay tuned for # 1

I Don't Miss You No More Featuring

Sincere - I love the concept of this track. It's a continuation of I Miss You from Darien's 1st album and it even has the same sample that was used. Two guys telling the story of how they were lied to by the same girl and how she's trying to get back. "

She Had My Heart, She Had It All But We Couldn't Be Cuz Her And Me Became Three

..." I enjoyed this duet. Their voices complimented each other very well.

Beautiful

- This track is #1 in my top 3 D-Brock slow jams. Fans may also be familiar with this one as it's been floating around on the net for the last few years and previously unreleased. This song is a classic slow jam of a man professing his love to his lady. It truly lives up to its title. I feel it really showcases his talent in range and sincerity. And hearing Darien sing it live??? Phew, it's truly a treat!! Don't take my word for it, see for yourself! Don't forget to pause the mp3, before pressing play!
I cannot say enough good things about
Darien
as a singer and a person. I'm proud that he's back and doing things his way.
The Cold Case Files
definitely does the job in peaking your interest and makes you look forward to his 2nd album titled, Affected: The Story of John Doe due out this year.