It felt like I was waiting forever for this trip to come! Since the start of the year, I had been dying to go away. I needed a break from work...actually, let me take that back…I really needed a break from my every day life! I've stated before that while I did have a few good times, last year was THE hardest year of my life. I've been overstressed, overworked, physically, mentally and emotionally exhausted especially from my mom's illness and her passing late last year. When I look back, the only times that I was truly happy was when I was away. I hoped that this trip would do the same…well, it did and it exceeded my expectations.

I stayed with my girl, Kimmie and her son Qadir like I did last April and had a blast spending time with them. I think they were as excited as I was to be there! Once we ate and I got settled, Kimmie and I got ready to step out. Darien was supposed to come out with us but he just got a new puppy and thought it would be best to stay since it was her first night at home. He promised to see me the next day.



My boy, 9th Wonder had a showcase for his artists at this place called The Brewery that night. I was really looking forward to seeing 9th and his best friend, Vince again. I was also excited because I knew I'd be meeting some folks for the first time. The first person I met was my girl, Ayana. She and I met a while back when 9th had a live video stream. Yana's one of the coolest chicks I know! It didn't even feel like it was the first time we met! She was standing right at the entrance waiting for me and Kimmie to arrive.



9th was already playing music on stage so I decided not to bother him but I did see E. Jones on stage setting things up so I went there to get his attention. E (Eric) and I've known each other for a few years now. I first got to know him through Darien because he produced most of D's album, Somebody To Love. Now E is 9th's right hand man when it comes to production. To my surprise, as soon as he saw me, he jumped off the stage to give me a hug! It was sooo great to finally meet him. Soon the show started and the crowd was entertained by performances Big Remo, Thee Tom Hardy, Act Proof, Rhapsody and Tyler Woods. During the show, I saw Vince but he was on the other side of the room so I texted him saying, "I see you!" It was so funny to see him get the message and immediately look around! Lol! When he finally saw me, I got the biggest hug from him. Later on, the tiredness really started to hit me so Kimmie and I decided to sit on some benches in the back to chill. We were kinda harassed by this drunk lady who kept talking to us saying how she wanted some "sausages and some eggs and some pancakes"! She kept sitting beside me too! LMAO! I dunno what was up with that but Kimmie and I couldn't stop laughing! A little while after that, I was approached by a really cool cat that recognized me from online and he turned out to be Sundown from Act Proof. I was really shocked that he knew me! He's quite talented and was very sweet; it was great to meet him.

Tyler Woods was the last to perform that night and he had a full band with him so I stood up from where I was to watch him. I noticed 9th wasn't onstage anymore so I went over to stand by Ayana for a bit and asked if she saw where he went. She pointed him out and I found him sitting on a bench not too far from us. I tapped his shoulder and he looked up at me with tired face but a big smile. He immediately pulled me for a hug and I sat beside him. It was quite comical cuz both of us were whining about how tired we were and leaning on each other to keep us sitting up! Lol! Kimmie and Yana even took pics of us. While we were taking pics, E came over and took a pic with us too.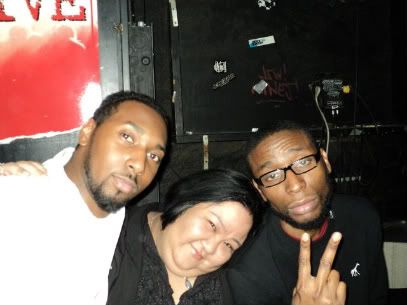 I introduced 9th to Kimmie and he took a pic with her then another one with Yana. I got him to smile both times too! I have this thing about him not smiling in pics; I like bugging 9th about it! Hahaha!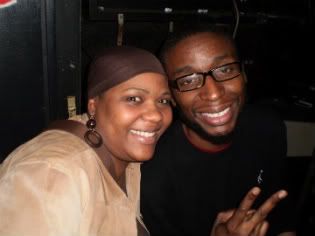 While I was talking with 9th, I noticed someone that looked familiar standing not too far from us. I thought it was a rapper named Cesar Comanche that I've been in touch with over the years but I wasn't sure because I had never met him in person. I asked 9th if it was him and he nodded saying, "You ain't never met Comanche??" I reached to tug on his sleeve a bit and waved at him so, he came over to us with a confused look on his face. I laughed and teased him a bit asking, "You don't know who I am? You don't recognize me??" The look on his face was hilarious! "Vee???" he yelled and we cracked up as we hugged. I also met another rapper, Edgar Allen Floe while I was hanging out with Yana. We actually saw him and wasn't sure if it was him. To our surprise, he came up to us which was good cuz both Yana and I are shy. Lol! It was an amazing night and really great seeing everyone.

The next day, Kimmie and I spent the day shopping. I didn't buy as much as I thought I would but I did buy a couple of shirts and a pair of shoes. After we got Qadir from school, we went to my favorite chicken joint, Bojangles!!! I've been hooked on their food ever since my first trip to North Carolina in 2007! The stuff is like crack, I swear! It took all my strength to keep myself from eating it in the car and wait until we got to Kimmie's place! Their fries and sweet tea are to die for! Oh yeah….their chicken is pretty great too! Lol! Instead of Kimmie taking pics of me off guard while I ate, I decided to pose for a few. We were laughing so hard!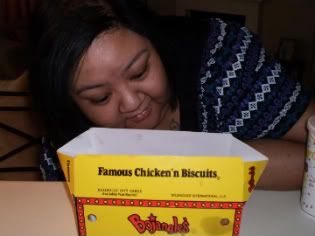 Later on, Kimmie's sister, Latoria came from VA to spend the weekend with us. We were just sitting around, drinking and having girl talk as we waited for Darien to come over.
He was coming straight from a rehearsal and we had plans to go out to eat. We had gone through so much (we both had deaths in our families) since we saw each other in NYC and it was just really good to see him. Of course,
Darien
was silly as usual. He animatedly told us about when he USED to drink. LOL! He made faces almost any time the camera was on him even when we were at the restaurant! He gave
Kimmie
a mean look because she claimed she wasn't hungry and wasn't going to eat.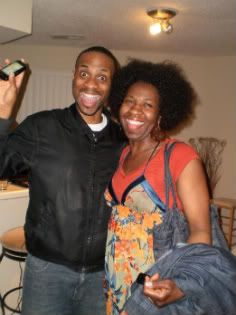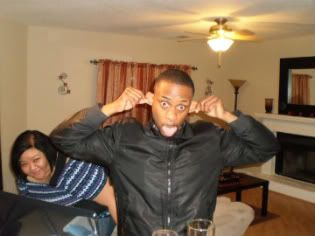 Saturday, I didn't do much. I basically relaxed while
Kimmie
and Latoria went to
Women's Empowerment
.
Darien
came by to visit and he brought his boy, Lou with him. I got to know Lou when we became friends on Facebook because of this game that we all play on there called Cafe World. At one point, D & Lou were quite competitive and tried to catch up to me but...I'm still waiting!! LOL! Anyway, it was really nice meeting Lou, he's is such a sweetie.
Eventually,
Kimmie
and Latoria came home. We all hung out for awhile before the boys went home and the rest of us got ready to go out.
9th Wonder
was throwing a
True School
party hosted by actor,
Idris Elba
. We were all pretty excited about this event.
The first person I saw was
Ike
aka
DJ Ike G Da
. I got to know him when
9th
had a
True School
Radio live video stream. It's funny how I saw him.
Kimmie
was just pulling up to a spot in the parking lot and he just happened to walk right in front of us. At first I wasn't sure if it was him but
Ike
saw me and pointed my way. I was so excited to see him that I almost got out of the car before
Kimmie
was fully parked! LOL!
Inside, I saw all my friends again and had a great time. The first person to come up and introduce themselves to me was 9th's wife, Shameka. I was shocked she knew who I was and it was a real pleasure meeting her. I also met her friend, Tonya who I knew from one of
9th
's video streams.
Yana
came with one of her girls and I also saw
Krissy
who I met through
The Lawn
. Of course, the ladies went crazy when
Idris
showed up too.
Kimmie
and Latoria were one of the first ones to get their pics with him and they were ecstatic about it. I stepped back because the crowd was getting too much for me right then. Girls were rushing to get at him so I decided to take the chance and wait to meet him later.
The party was great and the music was amazing. I don't think I've danced that much at a club in a long time and a great time was had by all.
With Ike & Tonya
With E. Jones & Cesar Comanche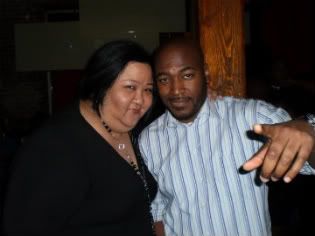 Dancing with Vince & E
Kimmie, Latoria & I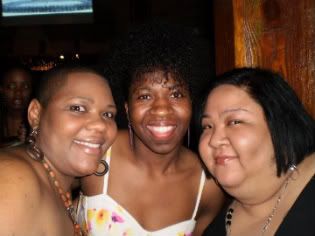 I did eventually meet
Idris
at the end. I didn't think I was going to because people were still around him when I went over to the DJ booth to say bye to
9th
. While I was saying bye to other folks,
9th
called me over and introduced me to
Idris
. He was really nice as we spoke a bit before we took our picture together.
Sunday, we didn't do much at all. We went to the Raleigh flea market before Latoria made her way back to VA.
Darien
and I were supposed to hang out again but unfortunately his new puppy got really ill so I didn't get to see him. It turned out she had worms.
Kimmie
and I just ended up hanging out at home, talking and watching TV which was just fine by me.
On my last day there wasn't much to do other than getting packed and ready to go home.
Darien
met me at the airport just as
Kimmie
was dropping me off and he stayed with me until I had to go through security. It was really good to just hang out and talk. He was being silly again by going on Twitter and tweeting me even though we were right next to each other! Lol! He also threatened to tweet my full name since he happened to see my passport! I just about died! There are a handful of folks who know my first name besides family. I did tell him once a long time ago but he forgot and I refused to tell him again. Thank God he was only joking, I know he wouldn't do that to me!
After security, I found out that my flight was delayed which worried me because I was afraid I was going to miss my connecting in NY. The rude person at the counter didn't help matters much either. She was quiet snappy with a lot of folks. I just sat by my gate, bitching about her on Twitter and found out one of my boys was working at the airport!
DJ Forge
who is my friend,
Kam Moye
's DJ, happened to see my tweets and met me at the gate. He found out that I was okay because I was taking the same plane throughout my trip home so I wouldn't miss my connecting at all. We hung out for a bit before I boarded and found out that one his friends that worked at the airport was
Idris Elba
's personal bodyguard at the party. I told him how crazy that party was and before I knew it, it was time to get on the plane. I sat in my window seat beside this sweet elderly lady. We spoke a bit while folks boarded. Just as almost everyone was seated, this dude from airport security came on. It felt like all of us quieted down and watched who he was going to talk to. Next thing I know, he stops in my aisle and says hi to me! I felt everyone stare. I thought I was going to pee my pants! I thought "Why the hell is security talking to me?" Then he reaches over to shake my hand and says "Hi! My name's ___ (I forgot his name cuz I was scared! LOL!). I saw you at the party on Sat. I was
Idris
' security." I swear, I sighed in relief right there and told him, "Oh!! Hi! Nice to meet you." "I just wanted to come on here real quick to say hi. Have a safe trip home!" he told me and walked away. As I put my seat belt on, I felt the old lady staring at me and then she said, "Are you an artist?" I smiled and told her no, not at all. Then she told me, "Well, I just thought you famous or something if people were just getting on the plane to say hi to you and wish you a good trip." I kinda laughed and just explained that I suppose I just know some popular people.
I cannot explain how much this trip has meant to me, for my well being. I hadn't laughed and smiled that much in months, frankly because there hasn't been much to laugh and smile about in my world. North Carolina seems like a 2nd home to me now and I went down there to see my family. There's no other way to put it...I felt so much love from the people I saw and spent time with. Thanks goes out to all of you especially
Kimmie
,
Darien
,
9th
,
Yana
,
Vince,
Ike
and
E. Jones
for really making me feel like family. I love you all! xoxo