Fave Freebies
DJ Phaze ~ 90's Dancehall Mix & 1980's MTV Flashback Mix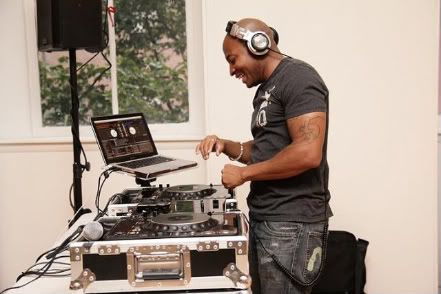 My homie,
DJ Phaze
based out of Baltimore released a couple of mixes that I absolutely love! These ones were available on
GrownFolksMusic.com
. I've always had a soft spot for reggae and
Phaze
's 90s Dancehall mix had me whining in no time! LOL! The MTV Flashback mix really takes me back to the days when I was growing up watching videos with my sister and brother. Hell, they dressed me up as Boy George for Halloween when I was in grade school! I really hope you enjoy these as much I am. To download & view track listing, click:
DJ Phaze's 90s Dancehall Mix
DJ Phaze's 1980 MTV Flashback Mix
For more mixes from
DJ Phaze
, head over to
www.DJPhazeCast.com
Mallz & E Dot Spencer ~ The Trimph Season EP
This EP is CRAZY! Yeah fine, I might be a bit biased because
Mallz
is my boy but STILL! He sent to to me the night before it's release. It was late so I just loaded it into my mp3 player, figuring I'd listen to it when I was alone in the office. The next day, I'm sleepy, grumpy while driving to work and I remembered I had it so I put it on. Boyyyy, did I wake up! :)
Mallz
's lyrics are tight and
E Dot
's production??? Just wow! But don't take my word for it, click the cover above and hear/download it for yourself!!
C3 ~ Contempojazzsoulhop
My boy,
Fave
's birthday was just last weekend but he's the one giving us gifts! Yesterday, Contempojazzsoulhop was released...a project Fave did with C3 which is short for Cross Country Collective. C3 consists of
Fave
who is in Texas,
Mr.Fresh
(DC) and
The Big LA
who is in Cali. C3 created this project via internet fileswapping which is a growing trend in creating music. Another Lady's Fave,
The Foreign Exchange
started out that way as well.
Contempojazzsoulhop is a 5 track EP that folks can grab for free. My only complaint is that it's only 5 tracks!!! Beautiful music and I look forward to more. Check C3 out for yourself by click the album cover above!