The Ice Cream Summerfest is the BEST concert I've ever been to and I was there with 2 of my favorite people…Linh and Tracey.


Thank goodness the weather co-operated and cooled down considerably. The seats we got were pretty close to the stage and the chairs were actually comfortable. The opening act was an R&B group from Toronto called Untitled. They were actually pretty good. They were young but they were cute. One of the dudes took his shirt off and got the ladies going! I swear, it's soo wrong for a guy that young to have a body that nice!! LOL!! There was another cutie in the group that I liked but again, very young! He stood close to us at one pointed and Tracey offered to take a picture of him. It's funny I think he pretended not to know Trace was taking a picture of him because as you can see in the pic that although he wasn't looking at the camera, he looked like he posed (he's the one to the left) ! I don't care…he's still a cute kid! LOL!


First up from the main acts was Donell Jones. I was really looking forward to seeing him because there were so many songs I love by him but he was the only one that really disappointed me. It sounded like something was up with his voice…like he didn't warm up properly but he was ok.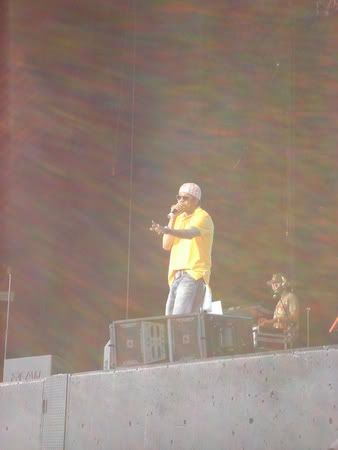 Carl Thomas came next and he was much better. His voice was rich and he was great. I actually didn't taken any pics but here's a vid...I'll post a link so you can see ALL the videos I took that day later!


Next was K-Ci & Jojo. I was a little weary about them. Not that I don't like them cuz I do…it's just there's 1 song in particular that holds a very strong memory for me. I enjoyed their performance. K-Ci was particularly entertaining with his crazy, scrawny ass! He took off his shirt and trust me…we wanted that man to put it back on. All My Life comes on and I immediately sat down. I had my shades on which was good cuz I had major tears in my eyes. It was the first time I heard the song in its entirety in a long time and it was hard but Trace and Linh kept bugging me and made me laugh a bit which helped.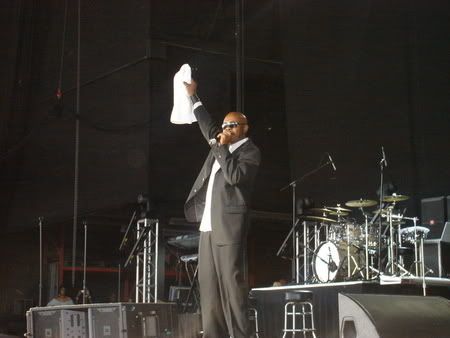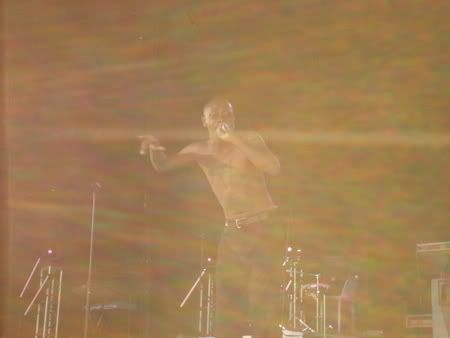 Jagged Edge was next and only 3 of 4 members made it. Apparently, one of the guys couldn't get across the border…the kicker was the dude that didn't make it, Kyle was my favorite of the group! They did well though because Kyle wasn't one of the main singers. We enjoyed their performance. I didn't take much vids or pics of them because they hardly came to my side of the stage! Here is the ONE vid I took...



Only 2 acts were left which were the main acts that people were the most excited to see. SWV (Sisters With Voices) is my favorite girl group of all time. They announced that this would be there final performance together and they did not disappoint.



Last but not least was New Edition and they were by far, the best act of the concert! Everyone was disappointed that Ralph didn't make it because he was sick but they held their own without him. I left Trace and Linh to go right up to the stage so I can take pictures and video with a really great view! Seeing them renewed my love for Johnny Gill.


He was amazing then and he's still amazing now. It seemed he was on my side of the stage a lot which made me even happier. Any time any of the guys came on my side, they just see me holding my camera up.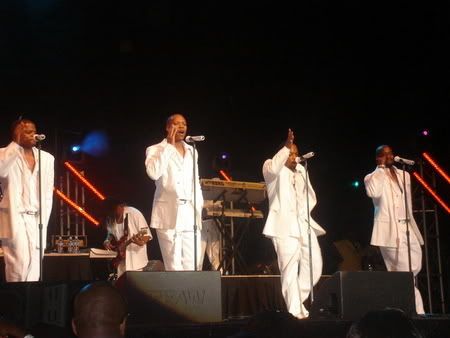 The highlight of the night was when Johnny was on my side of the stage and I was calling his name. He smiled and waved at me then he called Mike over, "Mike, c'mere for a minute….look there!" Johnny put his arm around Mike and pointed to me. They posed for me and I took the picture. I yelled thank you to them and Johnny winked at me. I was extremely excited and the picture turned out great!


It was about 11 when the show ended and the 3 of us were starving. After getting some food and quickly going to Tracey's to change, we went to the after party which was a lot of fun. At the end of the night though, my legs and feet were killing me and by the time we were walking to my car, I had a really hard time walking and was in tears. I got home around 4 which means we were out for 12 hours! The pain and the extreme leg cramps that I experienced at about 7am were worth it. I actually was surprised that I didn't wake anyone when I was going through the cramps because I was balling my eyes out while crawling on the floor, trying to move! This pic is just before the extreme pain REALLY set in:



This was about a week ago and as I write this, I'm still smiling about it. That day is something I will never forget!