As you can easily tell from my last entry, I had not been up to par…mentally and physical. There was about a week where I was almost at wits end regarding a few things and in addition to that, I had about 4 migraines in 7 days. I'm feeling better now…things have calmed down and I'm looking forward to a bunch of things.

One of the things that had calmed me down was on June 21, my friend, Tracey and I went to see Eric Roberson (aka Erro) perform. He's a neo-soul singer from Philly that I've been fond of for a while. There's something about music especially live music that uplifts my spirits and renews my soul. The show was held at this nice spot called Lula Lounge. The crowd was nice and so was the vibe. The fact that Trace and I managed to get a table right in front of the stage made everything even better. Tracey had never been to a live show before and I could see she really enjoyed herself. Erro did not disappoint and I have video to prove it. A number of times, he'd actually smile and pose for my camera. I'll post 2 vids here. Two of my faves and he looked at my cam both songs...Change For Me and Pretty Girl. Don't forget to pause the mp3 player to your right!
We managed to be one of the first people to meet Eric after the show. What a sweet guy! He was very charming and humorous. We took pics with him before saying good bye. I got home something around 2:30 in the morning and I was really dragging my ass at work the next day but it was surely worth it!!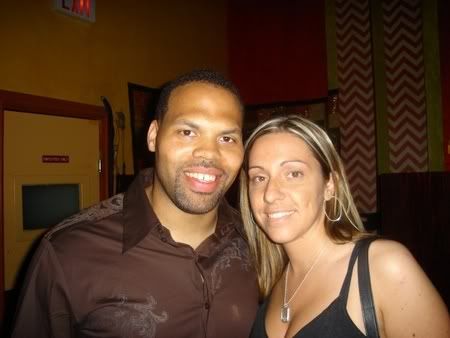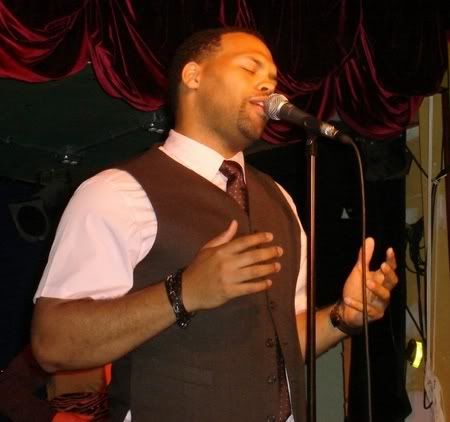 Special thanks goes out to Sean Sax who I briefly met years ago and became re-acquainted with through Facebook. He was a huge part of bringing Erro to Toronto so I want to thank him for doing that and also for being a really cool cat! I look forward to seeing a few more shows that you put on and hopefully, just hopefully, we can get Darien up to the T Dot for a show too!

Like I mentioned before I have a bunch of things that I'm looking forward to. First, Linh, Tracey and I are going to see the Ice Cream Summerfest which is a huge concert featuring New Edition, SWV, Jagged Edge, Donell Jones, Carl Thomas and K-Ci & Jojo. The show is guaranteed to bring me some major flashbacks while they perform songs that I have attached to certain memories. This is also Tracey's first major concert…as I mentioned previously, the Eric Roberson show was the first live show. I managed to make arrangements with Linh to grab an extra ticket for her last minute and I think she's more excited than Linh and I put together! And trust me, Linh and I are pretty excited! LoL! At the end of July, Tracey and I are hoping/planning to go to Philly for the Kings & Queens Bash on the 26th. I am a member of John Legend's official fan club called John's Legend Network (JLN). The bash is an exclusive party for JLN members. It features an intimate party and performance by John himself. People are coming from all over to be at this party. Members are allowed to get another ticket to bring a guest so Trace and I will be driving down. We plan to stay a few days there to hang out as well. Then on the Sunday after I get back from Philly, I'm taking Amanda to see Little Brother and The Roots. I haven't gotten confirmation whether or not Darien will be there but I'm going to the show regardless.

Right now, things are good other than the heat and humidity is pretty unbearable to me; especially when the air conditioning isn't working properly at work. The last few days I've been suffering from heat exhaustion and I'm getting pounding headaches as well! Ugh! Oh well…I keep pressing on …