I've been pretty down for the last little while. The main reason is I was supposed to be on vacation right about now…in New York to be exact. For as long as I remember, I've been wanting to go to NYC but always said that if I go, I want to have enough funds to do all I want to do: go to restaurants, sight seeing, a Broadway show and shop 'til I drop! So lack of funds and the fact that I really didn't start traveling until last year are the reasons why I had not made it there. An opportunity was brought to me by my sister to go at the end of April for a week and I jumped on the chance! We were to stay at a cousin's place the whole time and that was going to save us a bunch of money. I was extremely excited! Not only was I looking forward to a much need break cuz I've been so stressed at work etc.. but I made plans to meet up with Daru who was going to be in town with Barry King and Michelle who's become like a little sister to me was planning to come from Jersey to meet me. Up until about 2-3 weeks ago, I was set to go and for reasons that were beyond my control (I don't wanna get into detail cuz it just pisses me off), the plans fell apart.
About a week ago, I was on the phone with Daru and he mentioned that Reggie was coming to Pittsburgh. They were going to do a show in NYC and asked if I still planned to be in town. My heart sunk! I was so wrapped up in disappointment that I hadn't even told Daru that my plans had fallen through. I was quiet for a bit but finally told him and said that I felt really bad. He comforted me a bit saying not to be sad and that we'll meet soon. The next day I got the flyer for the show and saw that Rena was going to be there too with 2 other singers, Taihisha & Kissey! I called Jorge and told him that if I can't be there, he has to find a way out there. He's in Mass. right now so it's about a 3 hour bus ride away. All week I spent promoting the show and all week I felt really sad about the fact that I would be the only one missing. Jorge even heard me on the verge of tears over the phone.
Here's the flyer: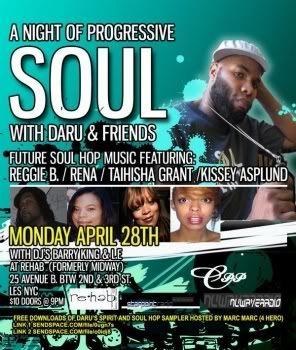 This passed Monday was THE day. Jorge and his brother, Al left at 3 or so and got to NYC around the time I got home from work which was about 7. They got lost so I had to look up the address and text him. I didn't hear from J for awhile until he sent me a text saying that he was going to call and not to pick up. After he called, my voicemail indicator went on. I picked it up and it was a message from Reggie saying he wished I could've come out. This happened a few more times until I had messages from Rena, Taihisha, Daru and Kissey. It was bittersweet for me. I was so touched that they all did that for me but at the same time, I knew I was missing out. J even called and left me a message when Reggie was singing so I could hear.
Even though I wasn't there, it's something that I'll never forget. Thanks to Jorge, Daru, Reggie, Rena, Taihisha, and Kissey for thinking of me and almost making me feel like I was there. It means a great deal. Luv you, guys! xo
I've figured out away to get the messages on my computer so I'll share them with you…be sure to pause the mp3 player that I have on the right hand side of the screen before pressing play on the players below:

Daru's Message




Reggie B's Message



Rena's Message



Kissey's Message



Taihisha's Message



Reggie B singing Future Music (snippet)