Everyone who knows me knows that my favorite singer is John Legend. I've been to a number of his shows and was lucky enough to meet him a few times. He just released a new album, Evolver. I featured a few of my favorite tracks on the mp3 player to the right. Of course, a new album means a tour and I went to see his show at the Roy Thompson Hall November 28th.
I splurged at got the VIP ticket package for my sister and I. The package gave us a free gift which was a nice bag, great seats…we were right in front, center stage and access to John's sound check. By the time Friday came, I was extremely excited but woke up with a pretty bad migraine. Luckily, I was functional by the time we went to sound check. There were about 30 of us in total watching the rehearsal. I got close with John's guitar player, Sharief through myspace a while ago so when he got on stage, he waved and said, "Hey Vee!" just as he was passing a mic stand. I jumped because it was weird hearing my name ring out in the hall! LoL! We sat around and watched as the band rehearsed. John came in about an hour late because he was held up at the airport in customs. As he walked on stage, he actually took a double take when he looked at me, smiled and waved! I was so shocked at the fact that he may have remembered me! When he apologized, he explained that someone with the same name as him, John Stephens has a criminal record. Even though that person has a different middle name, John's held up in customs every time he comes to Canada! After the rehearsal, we had an opportunity to meet with John and take pics. My sis and I decided to take one together since we knew we'd see him after the show as well. When it was our turn to approach him, he had a huge smile on his face and we greeted each other with a kiss on the cheek! "I've met you before, right?" he asked. I then pulled out my cell phone that had our last pic together when I went to Philly to see him last year. "Oh! That's in Philly!" he said and he laughed. My sister said "Wow!" cuz she was impressed he remembered and he told her, "What? Gimmie some credit, I remember things!" and we all laughed. I introduced him to my sister and we took a pic with him.
There was a bar and food set up after but since we had time, we decided to go to a nearby restaurant called Sei for some Japanese food. It was good but not the best we had. The service was slow too. We actually left our table to go to the front and pay our bill because the waitress didn't come by for awhile and we were running out of time! We met up with my brother and sister in law at the doors. One of my patients got a hold of a pair of tickets for me because he works with the company that catered the show. I didn't have the heart to tell him that I already had tickets so I offered them to my brother and Angela. They had really good seats too. They were just the next section over to us, about 6 rows back right in the aisle.
Raphael Saadiq opened the show and he was great! I've always been a fan of his and it was my first time seeing him live. He's a great performer! Then it was time for John. He walked in through the crowd and passed right by my brother who managed to shake his hand as he made his way to the stage. John's performance was amazing. The great thing about being a fan of his from the beginning is seeing the improvement in his performance. Not that he was ever terrible but he's become quite the showman! I've been always impressed at the fact that he sounds even better live. I don't think I've seen him smile so much while performing. He looked so happy and I have video to prove it. I was surprised that no one bugged me for filming. My videos were a little short because I was always paranoid security was going to come over and stop me! After the show, I managed to get Sharief's attention and he came down off stage. It was so good to talk to him and introduce him to my sister. He invited us to go to the after party but unfortunately, I had to wake up at 7 to meet my brother so I could watch my niece while they went out.
After Sharief left us, it was Meet & Greet time! My friend, Nikki who works for John set us up for that…Thanks Nikki!! When we got to him, he smiled and said "You're not sick of me yet?" We shared a laugh and I said, "Never!" I hugged him and told him his show was great before we took our picture together.
Wow, what a night! I'm still smiling about it. John is such a great guy, very down to earth, not arrogant at all which makes you like him even more. My sister was so star struck by him…it was funny. Here's a bunch of pics and vids from the show:



Me, John & my sister @ Sound Check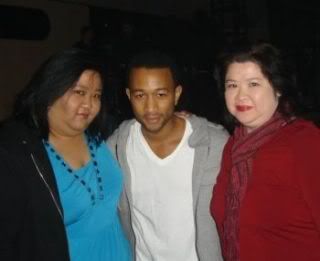 This is when he first came out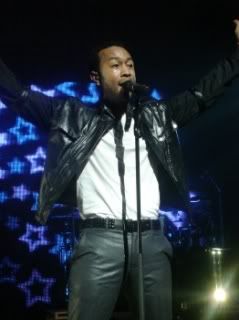 Sharief on guitar




JL smiling at my camera




I LOVE the lighting in this pic and no, it's not just cuz it's blue! LoL!




UP CLOSE!!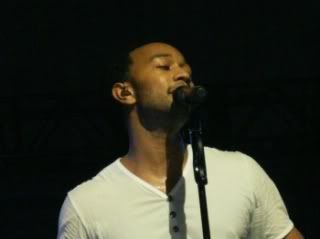 I think this is a cool shot too with Obama in the back screen




Sharief & I right after the show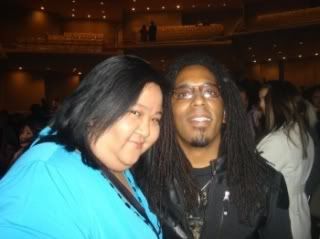 My Sis & John




John & I *sigh* LoL! I think my pics with him are just getting better and better!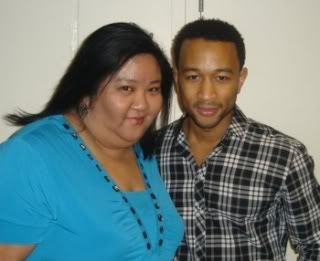 The Vids!!!

Make sure you pause the player to the right before pressing play!

These aren't all of them, if you want to see more go to: http://www.youtube.com/ladyvee76

Raphael Saadiq singing Be Here



John singing Get Lifted where he smiles @ me a bunch of times



Quickly



Good Morning



No Other Love



Everybody Knows...probably my best vid. He's sitting right in front of me!