*SIGH* Now where did I leave off in
Part 1
…
Kimmie and I had an amazing time at the Cat's Cradle. We didn't get back home until pretty late and even then, I had a hard time falling asleep…I'm always extremely hype after I see a live show (now you know why I love concerts so much!). Because of that, the next day, we were pretty drained. The original plan was to go out to Charlotte (a couple hours away) and meet up with my girl, Nancy. In the morning, we ran around shopping, grabbed some grub etc. I was hoping after eating that I'd feel more like myself but it didn't really help. I was unusually exhausted, headachy and such and I didn't even have one drop of alcohol the night before. Eventually, I figured out that I was quite dehydrated. I called Nancy to see if she'd be willing to meet up Sunday instead and she agreed. She asked if we were planning to go to the Foreign Exchange show which was sponsored by
myspace.com
since we would be in Charlotte. I told her I wasn't sure since my flight left so early Monday morning and the shows usually run quite late. We just decided to play that by ear and I would call when Kimmie and I were on our way.
We decided to stay in and relax which I was grateful for because I really wasn't feeling myself. We wondered what
Darien
was up to and Kimmie even suggested that he could come over to hang out if he wasn't doing anything later so I called him. He was going to be singing at a church concert that night so we couldn't hook up. Then he realized that we weren't in Charlotte and I told him why, saying that we're planning to go tomorrow. This was when I found out that their show was an early show, starting at 8pm. D asked what time we were planning to leave, saying that maybe he could even ride with us. Since we didn't have a set time, I just told him to let us know where and what time to meet him. Eventually, he texted us saying to meet him at the hotel at noon.
The next day, I felt a lot more like myself and I was sooooo thankful! We left to get a quick bite to eat, gas up the truck and head over to the hotel. We took a couple of pics in front of Kimmie's house cuz we thought we were lookin' pretty fly! LoL!
When we met up
Darien
, he told us that
YahZarah
wanted to ride with us as well. Everyone was showing up little by little and packing their stuff into their vans. YahZ was the last to arrive and after I helped get her stuff in the truck, we left. We actually all left together but eventually, we got separated. We also stopped at Bojangles cuz D and Yahz wanted snacks. Here's a few pics we took while we were stopped including one of D sticking his tongue out at me: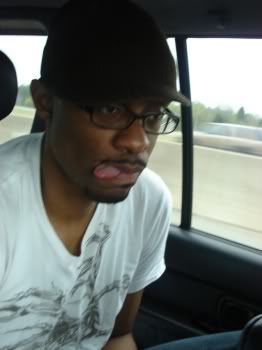 The road trip was really fun!
Darien
let us here a couple of tracks that he's been working on for his new album which were great and
YahZarah
showed us some videos of her in NYC from her laptop. Kimmie had a DVD player in the truck so YahZ gave us a movie starring Diana Ross called Mahogany. There was tons of sillyness and laughter, we talked about a lot of different stuff that I won't get into on here!! LOL! We actually got lost for a bit. Even though we were using the GPS from D's phone it didn't look like we were getting anywhere. It kept leading us to a certain area and we didn't see the venue at all! We kept going around in circles and were all getting frustrated. YahZ ended up calling the place and spoke to the manager, Mike who was really cool. As it turns out, we did keep passing it. We just didn't expect the venue to be a big old white house like this:
So we helped them unload and hung out for awhile as the band set up for sound check. While we were chillin', Nancy had texted msged saying that she wasn't going to make it cuz she wasn't feeling well. I was extremely disappointed and upset...almost to the point of tears but I managed to keep my composure, Thank GOD! I just got real quiet for awhile. During that time,
Darien
, YahZ and Kimmie really tried to cheer me up. Soon, it was sound check and shortly after that, Kimmie and I decided to head out for a bite to eat. Even though we came with them and everything, somehow Kimmie and I felt that we should get out of everyone's way for a bit, like we shouldn't be here even though no one made us feel that way. I guess it's just cuz everyone was working, doing stuff and we were just there. When
Darien
heard that, he said we shouldn't think that at all, that we're family etc...and insisted we stay. We did end up leaving though. When we got outside, there was already a crowd forming and it was over an hour before the doors were supposed to open. Luckily, we found a small Chinese restaurant nearby. When we came back the crowd really grew and we knew the doors were going to open soon. Some folks were set up right at the doors and for a minute, we were worried we wouldn't be able to get back in. Just when I was going to call D, Mike happened to poke his head out to look at the crowd and saw us. He called us to hurry inside and we rushed in. We decided against going upstairs because we knew everyone would be getting ready so we just decided to find our spots by the stage. I was determined to take a lot of video since I was disappointed on how most of my footage from Friday turned out. Kimmie and I decided to sit on these speakers set up on either side of the stage which was perfect! The stage was pretty small too. If Kimmie and I stretched are hands out, we could easily reach each other!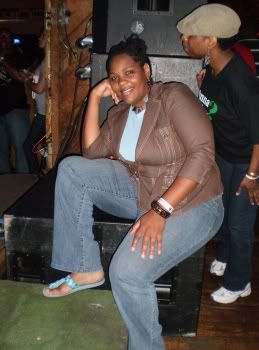 Soon, it was showtime! It was packed to capacity and the venue was HOT! No, I'm not talking about the vibe being hot...I mean the venue was heatstroke HOT!!! It got to the point where they were sharing a roll of paper towel on stage cuz they were sweating so much. Between songs, D leaned over and asked me every time he used the paper towel to look at him to make sure he didn't have any stuck to him! LoL! Kimmie & I really had some great spots for pics...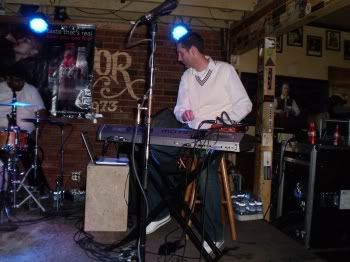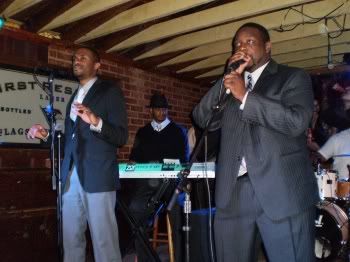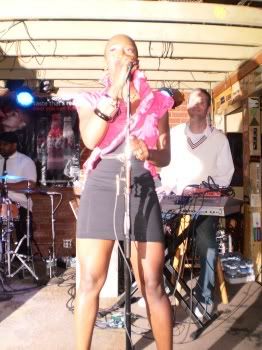 Carlitta came to the show too and sat with Kimmie so I took this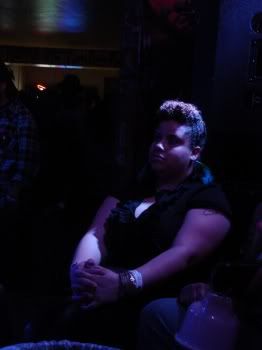 Eventually Phonte got her to join them onstage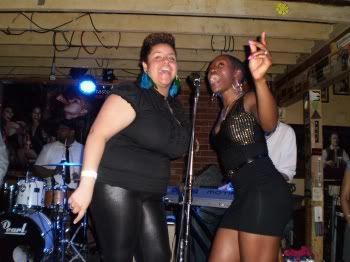 I really like this pic of Zo


A couple of my shots of D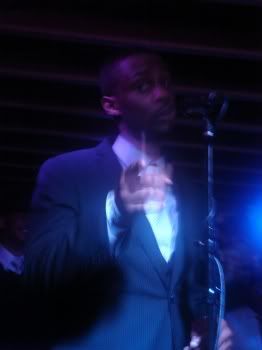 All in all, it was a great show despite feeling like we were melting inside! The videos turned out pretty great...
Darien
even sang to my camera a few times.
Take Off The Blues (Look @ 3:33 mark)

Written All Over Your Face (4:05 mark!!)

Here's when they took their bow at the end! You can see how hot they were onstage!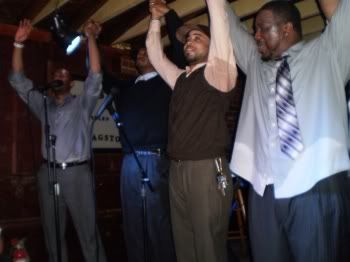 Right after the show, Kimmie and I were dying to go outside to get some air. We actually found
Darien
out there doing the same thing so we took some pics. I think D and I look sooo tired in ours! LoL!
Eventually, they all went upstairs to get changed and pack up. Kimmie and I were just chillin' out and starting to feel tired. To keep ourselves occupied, we asked a girl to take this pic of us. I think it turned out pretty well considering how tired we were! This is my FAVE pic of us!
Also while we waited, we hung out with
Aimee
as she packed up all the merchandise.
When
Zo
was pretty much finished getting ready to leave we decided to grab him for some pics too. I was just about to take mine when
Darien
jumped in front of us so I just pulled him back and took a picture with the both of them.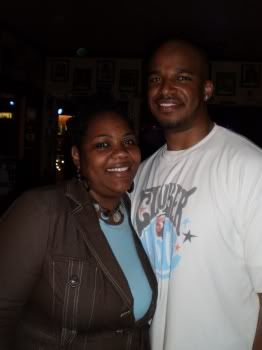 We didn't up leaving the venue until after 11:30 or so and still had the 2 hr journey home. The vibe on the trip was very quiet as we were all tired.
Darien
, who is not a night person at all, had to work in the morning,
YahZarah
, if I remember correctly, was catching a flight to New York sometime in the am and I had to be at the airport for 5:30am!! Although D & Yahz were able to sleep, I couldn't. I was busy thinking about what I had to do when we got back to the house cuz I still had to pack. Then I started to think about Nancy again and actually ended up crying. For those who don't know me, most times when I cry, it's because I'm mad and I was. So many things ran through my mind but the main thing that bothered me was why did she text msg me? Why didn't she call instead? I didn't contact her until after I came home and we're okay but even as I write this, I still feel a way about it.
At about 2am, we got to the hotel. We got out of the truck to help them put their stuff in their cars. I could only imagine how funny we looked. We were all so tired that I'm sure we looked like zombies walking around from car to car and eventually giving each other big hugs goodbye.
It wasn't until 4am that I finished packing all my stuff up and went to bed which gave me an hour of sleep before heading to the airport. The flights home were uneventful. It just felt like a really long process because I was walking around in a daze and dragging my feet.
I've been on a few good trips since I started to travel in 2007 but this one really takes the cake. Maybe it's cuz I've been going through so much, I really needed to get away and have some fun because there's nothing better than good music and laughter to ease the soul. Or maybe it's all the friends that I spent my time with that made me feel like family. Perhaps that's why the vacay was extra sweet. All I know is that, I came back feeling relaxed and all smiles, like I can face every day life again. But most of all, I came back feeling loved.
Thanks, Kimmie, Darien, YahZarah, Zo, Carlitta, Tay, Nicolay and Aimee! Love y'all!