Wow, where to start! I may have to make this a two part blog! I went to North Carolina. I was going to relax, distress and spend time with my girl, Kimmie and see Darien. I knew I would have a great time but everything was wayyy beyond my expectations.

First I want to say a big thank you to Kimmie and her son, Qadir for letting me stay with them and making me feel at home. Y'all are amazingly wonderful and funny as hell too! I swear there was not one day that went by where Kimmie and I were in tears from laughing so much!


I'm not going into too much detail about my traveling drama but I will give a summary: I had a stop over in Laguardia airport…it was for an hour which I thought would be cool and it would've been…IF my flight from T-Dot wasn't delayed! I had about 15 mins to get to my connecting flight and was misguided by clueless staff not once, not twice but THREE times!! I thought I was gonna pass out from running all over to find my damn gate! When I finally found it, my connecting was delayed anyway! I was supposed to arrive in NC around 9 but didn't get there 'til 10! Needless to say my 1st night was pretty uneventful, I just got settled and we just chilled and talked.

Thursday was a chill day too. Kimmie and I just hung out, grabbed some food and went around shopping. I spoke to Darien and we didn't get to meet like we had hoped because of his busy schedule. We ended up planning to meet before the show the next day. Kimmie and I just ended up going to the liquor store and stayed in, drinking! Lol! I told her I was just here to chill in NC and hang out, meaning that I didn't care if we went out or not. We found this mango vodka at the store so we mixed that up with some pineapple juice and it was oh so lovely!

Friday started off relaxing, just hanging out and stuff. I heard from Darien and he told us he would call to let us know when he was on his way so we could meet. Kimmie and I figured since the doors opened at 9, we'd aim to get there around 8:30 so we just chilled until it was time to start getting ready. In the middle of getting dressed, D calls and says he should be at the venue in 15-20 mins! I think that was around 7 so we rushed and left as quickly as we could. I called D back when we pulled into a spot and found out that he had just left. They finished sound check and everyone was leaving to go to the hotel etc. All Darien thought about was being at the venue by himself, forgetting that I was on my way. Disappointed, I just told him to call when he was on his way back. There was no point of Kimmie and I going home so we just decided to wait it out. Almost immediately after we hung up, he called back, asking if we wanted to pick him up at the hotel which was down the street. After okaying it with Kimmie, he gave her the directions and she told him we'd see him a few minutes. I thought we were going to leave right away but I was surprised when Kimmie stepped out of the truck. "What's wrong?" I wondered as she opened the passenger door behind her. "Girl! I ain't gonna have no artist up in my truck looking like this!" she exclaimed as she moved stuff (i.e. shoes, papers etc) from the seats behind us over to the back. We cracked up so bad before we headed over to get D. It didn't take long for us to meet up and as soon as he got in the truck, Darien started getting all loud about my hair, saying he loved it. The thing with my hair is I got it cut really short about a month and a half before my trip. I just needed a change and I really liked it. I got praise from a lot of folks too. Just before I left, I decided to get a trim. The hairdresser took off nearly 2 inches! I was mortified! Not only was it even shorter than the original cut, she cut my bangs!! I haven't worn bangs since grade school!!

When we got back to Cat's Cradle, there was a huge line up! Kimmie & I looked at each other worried cuz we had just planned to pay at the door. Once D found that out, he told us to drop him off in front to see what he could do. We told him that we didn't mind paying; we just hoped we didn't have to deal with the line. He said he'd see what he could do and just told us to park. It didn't us long to notice Darien running back over to us. "C'mon, let's go! Hurry up!" he exclaimed. We rushed out of the truck and he immediately started to get his stuff out of the back. "Aight, so what we're gonna do is y'all are going to be coming in with me so here, carry this!" explained Darien as he tossed his suit to me. He pulled out his backpack and his iron. "Well, shoot! Let me carry something! Gimmie the iron! Gimmie the iron!" panicked Kimmie. D gave Kimmie the rest of his stuff and we followed him to the doors as we all desperately tried to keep from laughing. As we passed through security, Darien told me, "So I think what we should do is conduct the interview in this room right here…" while leading us to the back area. I just nodded, holding my composure until we all went inside and laughed.



Kimmie & I chillin' backstage!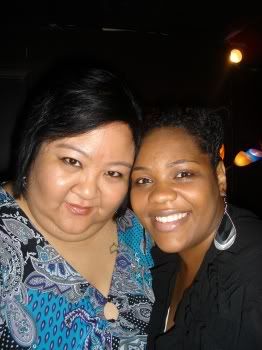 As D got all his stuff organized, we met Carlitta Durand, a singer who was getting ready to open the show that night. She and I have corresponded a few times on the net so it was really a pleasure to meet her.




Shortly after that, D and I got Kimmie to film us doing a blog for our facebook group which was a lot of fun. I was pretty shy but I wasn't as nervous as I was. We even had Carlitta be a part of it too. I was really excited about the video…we even made it on HoneySoul.com!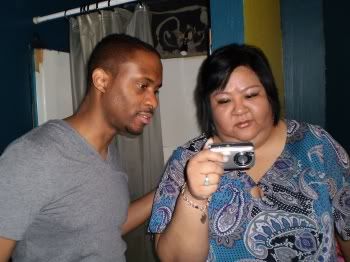 After all that was done, we just hung out as Darien prepared for the show which included him having problems with his iron cuz it wasn't steaming! Lol!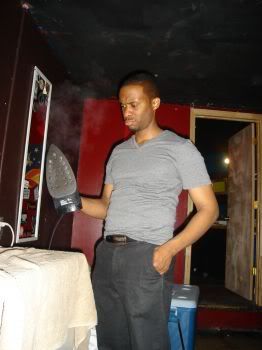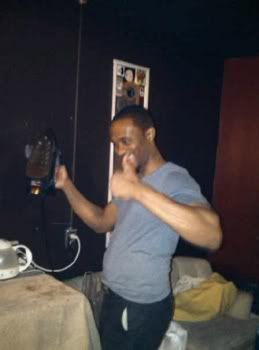 I also got to meet a couple of folks that I've been talking to on the net for awhile, Jamie who has a clothing line based in NC called, Subject 2 Change and Chaundon, a rapper and worked with Darien and Little Brother many times.



With Jamie


Chaundon & I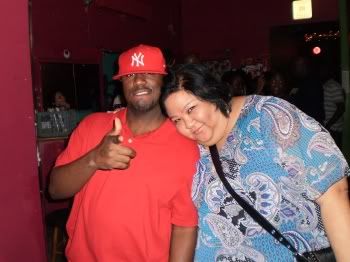 Eventually, Kimmie and I left backstage to find spots by the stage to enjoy the show. I was approached by a few folks that recognized me from the Darien FB group and also from Justus League's message boards, The Lawn. I'm still floored every time people come up to me like that but it was really great to meet them. Carlitta hit the stage first and her set was amazing. Her band, Fat Snacks, was on point complete with a horn section and everything!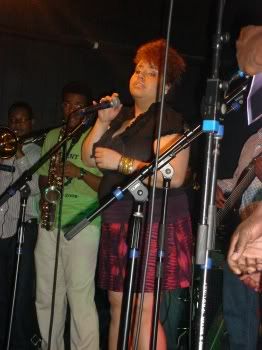 Carlitta performing one of my faves, Thinkin' Bout You




While we waited for Foreign Exchange, the crowd was entertained by DJ Mensa who's actually from Toronto. We had actually been in touch through the net as well but never met in person. He got everyone going with the music he was spinning and made me feel proud that we're both from the T-Dot!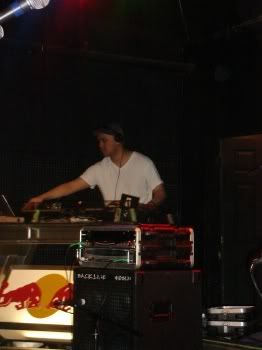 The time finally came for my friends to hit the stage and it was like the place erupted! The crowd showed them TONS of love and it was definitely well deserved!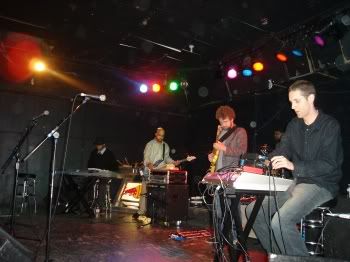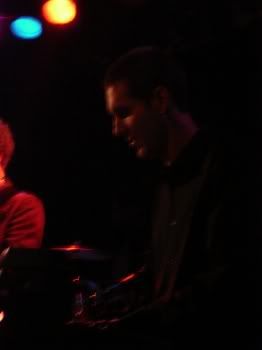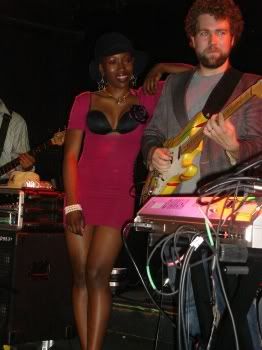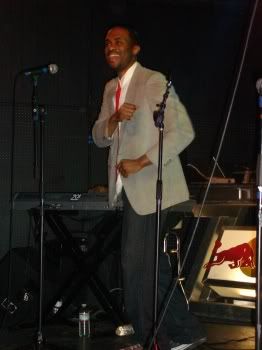 During the performance, I was approached by Aimee who is Nicolay's wife and also Foreign Exchange's "Lady Hustla" as they call her. She takes care of everything from event booking to merchandise. I was pleasantly surprised she recognized me seeing that we had minimal contact on the net previously. I was floored when Aimee told me she was happy that I made it to the show. She's such a sweetie. They put on a fabulous show but I was a bit disappointed when I tried to film. The lighting wasn't the greatest where I was and knew that most of my footage would be dark.



If She Breaks Your Heart









When the show was done, I called out to Mensa who was walking around on stage. I was so happy to finally meet him and congratulated him on a job well done. We were also constantly interrupted by folks wanting to do the same and asking him where he played. They were surprised when he told them that he's from Toronto. I introduced him to Kimmie and we joked that we had to come all the way down to NC to finally meet.




After that, we scrambled around looking for Darien because I knew he planned to leave as soon as he could because he had to get up early. We took a few pics with him before he left.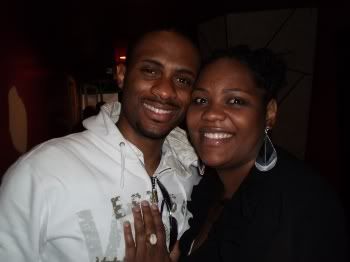 D kept joking around, he kept moving his hand behind me, giving me bunnie ears etc. lol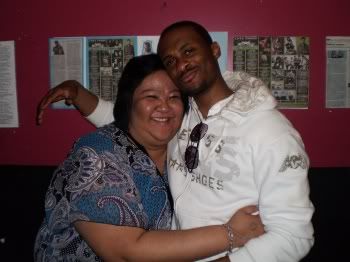 Only way I could stop it was to grab his hand!! :oP



We said goodbye and he told me to call him sometime before I leave. At that point, I heard someone yell, "Oh shit! Is that who I think it is?" and saw Big Dho looking my way. I laughed and hid a bit as he said, "I see you, Lady Vee!" We took a pic together and he asked why I didn't tell him I was coming to NC. I joked saying, I wasn't aware that I had to make a formal announcement.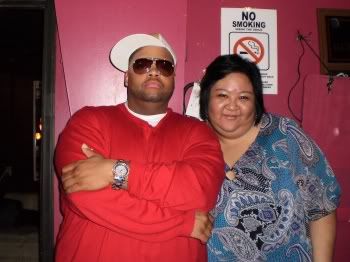 Then we did the rounds to talk to Zo, Nicolay, Phonte and Yahzarah. It was soo great to see them again and was happy that I got my pic with Yahz since we didn't do one last time.



Kimmie & I with Zo


With Nicolay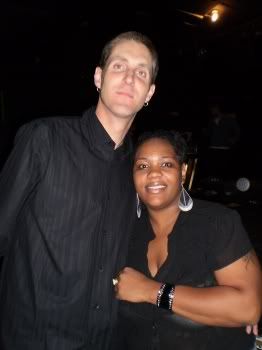 With Phonte


With the lovely, YahZarah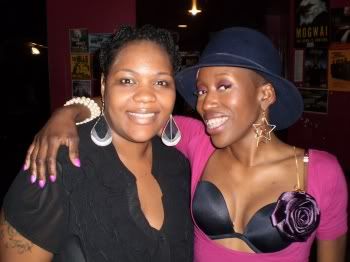 All in all, it was a wonderful night. Kimmie enjoyed herself as well and for that, I was really happy. She wasn't familiar with any of my friends nor had she heard any of their material until that night and I believe I turned Kimmie in to a big fan! I'll end this entry here with a few pics and vids then continue to part 2….