A little while back, a friend of mine, Grammy award winning producer 9th Wonder told me that he and his boys will be in town for a party called Hip Hop Love which would be a part of the annual Manifesto Festival. It's a festival that Toronto has to celebrate hip hop music and culture.
Once I found out the date and location, my cousin, Jojo, friend, Rica and I got tickets. I was so excited because this was the first time Rica and Jojo would be hanging out and also because I haven't seen 9th in over a year. We got there a little too early so when we got there we were just hanging out and taking pictures.


Jojo has this thing about taking pictures; she hates them. So of course, what did Rica and I do? We tried to get her as much as we could! LOL!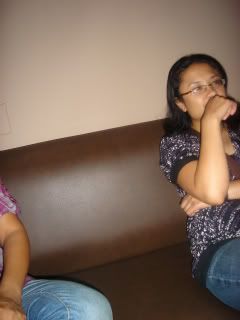 As soon as 9th and his boys arrived, he saw me and gave me a huge hug. We spoke a bit before he had to go to the DJ booth. Rica, Jojo and I spent the rest of the night joking around and dancing. Eventually, 9th and his True School Crew: Vince, Jay Clipp & Cuzzin B, took over the party and threw it down! I loved hearing them play.


The music was so good we danced until our feet started to hurt which is when we went to chill on some couches. Soon, 9th came out of the booth and came over.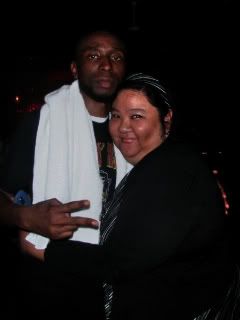 I told him the news of my mother and he just kept hugging me. Jay Clipp came over and introduced himself to me. Then 9th's best friend, Vince came over to us, meeting him was especially cool because he had been through what I'm going through with my mom but unfortunately, he lost his mother this year. 9th had spoken to me about Vince and I guess he told him about me as well because as soon as 9th introduced us, we hugged and didn't let go for the longest time. 9th left us to mingle a bit and Vince and I just stood there. He was just talking to me and giving me encouragement. I swear Vince had me in tears, in a good way though. It was good just to be held and given support. The fact that it came from someone I met for the first time, really touched me. After a bit, I decided that we should get going. It was getting late and I still had to drive Jojo home to Brampton. I went over to 9th to say bye and he asked what I was doing the next day. When I told him I had to go to the office to catch up on some things, he looked at me surprised that I wasn't planning to go to the show. Sunday, Manifesto continued with a huge all day free concert at City Hall consisting of numerous Canadian acts with the finale being Talib Kweli. He kept telling me that I should come then grabbed my blackberry from my hand and entered his number. Then he just stated "I'm seeing you tomorrow. Call me." All I could do was nod and say okay. Lol! I was kinda in shock, to tell you the truth. I mean, I knew 9th and I were cool and all but I didn't know we were THAT cool!
The next day, I woke my ass up early even though I came home sometime after 4am to go to the office. I managed to get everything done which was good. I asked my sister to come with me even though she doesn't have much hip hop knowledge and she agreed to meet me. We got there early to take in the sights and performances. When 9th and the crew arrived, it was starting to get busy so he didn't see me at first. Eventually through texting, he came out of the backstage tent to see me. I introduced him to my sister and we just stood around talking for awhile. It was kinda funny cuz I was just hugging on him while we were hanging out, laughing and people kept interrupting us. They wanted to talk to 9th, get his picture or autograph. Those folks had more guts than me cuz if I saw him huddled up with someone the way I was, I wouldn't even think of interrupting. He was really good about it though. Whenever someone would stop us, 9th would say "Yeah, I'll do that for you but I'm spending time with my family right now so you gotta give me some time". I thought it was cute when someone stopped him, my sister said, "Wow, he's really popular, huh?" Lol! At one point 9th told someone, "See dis girl right here, this is my God sister and we haven't seen each other in a long time. We were separated when we were young, some years ago so lemme spend some time with her and I'll get to you in a minute." I couldn't keep a straight face anymore so I just buried my head in his chest laughing. When I asked him why he was lying, all 9th said was that he was getting tired of saying the same thing! LOL! Then this dude that I hardly know approached us. I recognized him as some guy that tried to pick up a friend of mine at a club years ago and couldn't even remember his name. I'd see him around from time to time but he'd only speak to me if that friend of mine was with me. Last I saw him was at the Rock The Bells show last year. He walked over, gave me a weak hug and said, "Hey girlfriend! Long time no see! When was the last time? Rock The Bells?" (He didn't even know my name! LOL!) I awkwardly said yes and then he proceeds to turn to 9th to say hi, trying to chat him up, asking for a picture. 9th said the same thing he was telling everyone else then dude was like, "Oh aight! Sure! I'll wait." He just took a step back and stood there still close to us! I whispered to 9th that I really didn't know that dude and he just said, "I know, sweetie. I could tell." We just had to laugh about it, it was crazy!
Eventually, even though we told him he didn't have to, 9th went and got us wristbands so we could go hang out with him and the boys in the backstage tent. Cuzzin B came up to me to introduce himself since I didn't get to meet him the night before. We all got talking about this restaurant that they all fell in love with called Richtree. He even showed me pics of the food! Yep, it was THAT serious! LOL! I agree though, Richtree is one of my faves!
It was really cool to watch the show from side stage and see some of the performers in the tent. Soon, Talib Kweli showed up and I was floored! 9th went over with his boys to say hi. When he came back, he must've seen my eyes buggin' out cuz 9th had asked me if I had ever met Kweli before. I couldn't even speak; I just shook my head no. Then 9th goes back over there and the next thing I know, Talib Kweli is following him, walking over to me! I had to keep my mouth from dropping as 9th said, "Yo, I want you to meet my fam." Talib went over to my sister first, shaking her hand and asking her name. Then he went over to me and did the same, only I could barely speak. When I finally managed to, I spoke a bit to him and asked to take a pic with him. While my sis took the pic, 9th was standing behind her, laughing at me. I said thank you to him and he went over to say hi to some other folks. 9th couldn't stop laughing at me, I was soo embarrassed! Lol!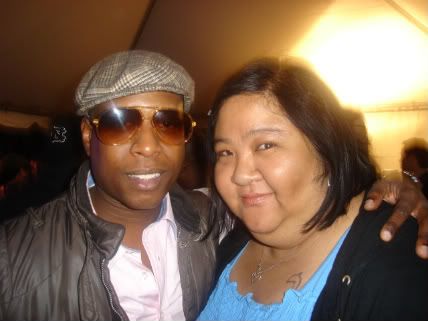 Talib Kweli performing one of my faves, Get By! (Don't forget to pause the mp3 player to the top right before playing!)




After 9th and Jay brought Talib to the stage, it was time for us to go. It was Sunday and it was getting late. I was also taking into consideration that my sister came with me as a favor and she had to get up early. I quickly went to say bye to the boys first and grabbed Vince for a picture.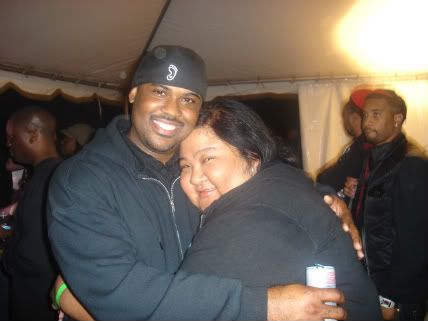 After we took it, I looked at the pic and was so happy that Vince had a big smile. I immediately bugged 9th about smiling because when we were hanging out outside, I complained that he didn't smile in the picture we took the night before. I kept telling him, "See! Vince smiled! It isn't that hard!" And 9th said Vince smiles all the time and that he hardly ever smiles in pics. I just pouted at him and we laughed. Then he said "FINE!", grabbed me and posed as my sister snapped the picture. When I saw it, I couldn't help but laugh! It was the biggest smile I've ever seen!!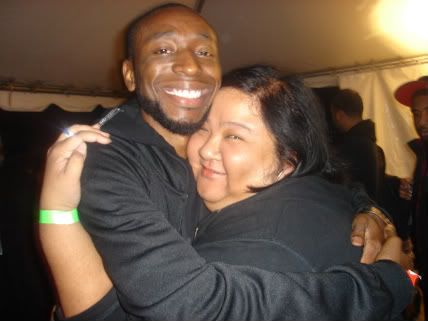 This wasn't the first time I went to Manifesto but I definitely had the most fun this year. It was all thanks to Jay Clipp, Cuzzin B, Vince and of course, my Godbrutha, Mr. 9th Wonder . Thanks for the love, fellas! I hope you come back up for Manifesto next year but y'all should come back up sooner than that!