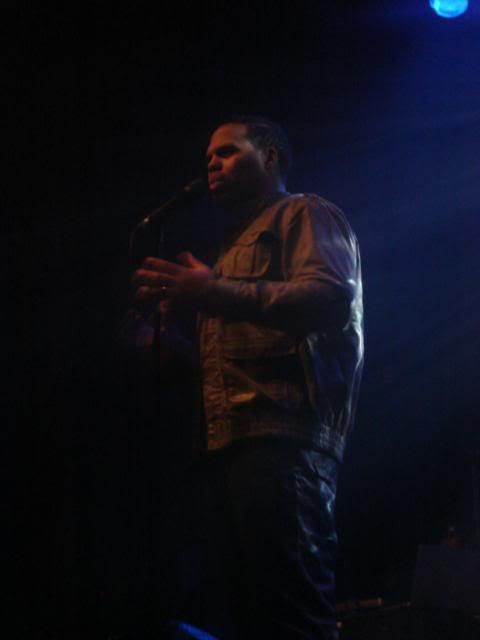 This was my first concert of the year and I can't think of anyone better to start with then
Eric Roberson
. It was on a Monday night and for those who know me personally, I generally don't go out on Mondays (I have to get up for work at about 5:30am on Tuesdays). With
Eric
being 1 of my top 4 current male singers (the others are Dwele, John Legend and Darien Brockington), I made the sacrifice and went. I was excited that day because I was on Twitter and said something to the effect of looking forward to
Erro
's show, asking who else was going and
Eric
actually replied back to me saying "I'm going! Wait…U weren't asking me.". I was trippin'! I know I'm such a nerd but whatever! Lol!
Opening acts Kim Davis and Subliminal started off the night and they were impressive. Both of them come from my city and very talented. I've seen Kim perform before and she's always great but this was my first time taking in Subliminal and that dude is the TRUTH! I really loved his set and his vibe of soul hop. I can't believe I've slept on his music; I need to check out more of his stuff.
Then the Grammy nominated (or "Gramminated" as he calls it) singer took the stage, strutting out to his song off of his album, Music Fan First called The Newness.
This was my 2nd
Erro
show unless I count when I saw him in NYC while he hosted Sol Village at SOBs.
Eric Roberson
is always entertaining. This time he brought his band with him and they were great as well.
Eric
is known for his freestyling abilities, making a song up with words suggested by the audience. Determined to get him stumped, folks yelled out the words platypus, Snuffleupagus, organic, cheesecake and conundrum. The guys in the band switched their positions too. I can't recall how exactly they did it but I do remember the bass player was on the drums and the background vocalist on keys. The song turned out great!
Eric
was quite clever with the words and managed to use all of them!
Unfortunately for me, my camera was not working properly so I have one decent picture during the show and only recorded The Newness. The Freestyle vid is courtesy of my girl, Tracey. I think it may be time to get a new camera which I'm sad about because I'm quite attached to the one I have now.
After the show, I hung around to meet with him and ended up talking to
Eric
's guitar player,
Curt Chambers
a very talented musician who released his mixtape/EP not long ago available on
curtchambers.com
. Tracey and I had a lot of laughs while we chatted with
Curt
as I waited my turn to speak with
Erro
.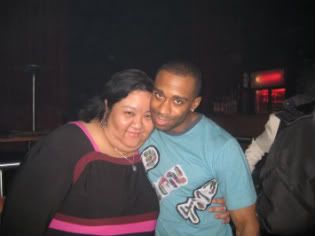 The guys in the band were all very nice and approachable. When I finally did talk to
Eric
, he actually remembered me from Twitter! I was really happy about that but I kept my composure. Lol! I wished him luck on the Grammys (unfortunately he didn't win but being nominated is still great!) and took my picture with him.
If
Eric Roberson
ever comes to your town, be sure to see him and be prepared to be entertained!