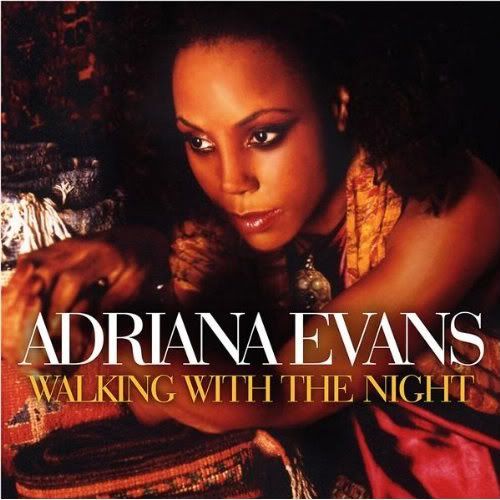 I remember when I first discovered Adriana Evans…it was years ago and I was at a downtown music store. I stumbled upon a listening station in the R&B section with her CD and decided to check it out. Within 15 minutes, I was at the cashier buying her self-titled CD. Since then, Adriana Evans has released a few more albums: El Camino, Kismet and Nomadic; the first album being my absolute favorite. This year, this California based singer brings us her latest work, Walking With The Night.
I thoroughly enjoyed this album. From the sound of Adriana's voice to the production and instrumentation, it's just great. This 14 track album is loaded with feel good music that makes you feel like cruising in your car or hanging outside in some warm sunshiny weather.
Track Listing:
Waiting
Suddenly
Midnight
Love Me On The One
Never Thought
Surrender
Astral Project
Let You Get Away
Sooner Or Later
Walking With The Night
Weatherman
El Sol
Set In Stone
Weatherman (Extended 12 inch version)
Personal favorites include Never Thought, Surrender and Weatherman. The main song I have on repeat is El Sol (which is the song currently featured on the mp3 player). If you are familiar with Adriana's first album, you may recognize it as In The Sun. El Sol is basically a re-working of In The Sun from her self titled debut album and what a piece of work it is! Besides live instrumentation, a little Latin flavor is added to the mix which I assume led to the title change.
My opinion on Adriana Evans' Walking With The Night: It really is food for your soul, it certainly fed mine. But don't take my word for it, listen for yourself! You can find the album on Amazon.com. ENJOY!
{originally posted by me on
Soulified.com
}