October long weekend, Rica and I decided to go on a road trip to North Carolina. We were both in desperate need of a mini vacation and thought it would be fun to visit Darien. When we started the planning process the plan was actually to fly but prices went wayyy up by the time we were ready to book. Mapquest claimed it would take us about 13 hours or so to drive down to Durham, North Carolina. Rica claimed she's sure it would be less than that and said that she could do most if not all of the driving. We planned to pick up the rental Thursday evening and leave really early Friday morning.
The Thursday before we left, I was having a terrible day and so many things went wrong. I was feeling overwhelmed and almost like something or someone was trying to keep me from going away. We had reservations to pick up the rental at 8 and I stayed at work until it was time to go. I didn't even finish all that I had to do so my plan was to get the rental and come back to this office for another hour or so. When Rica and I pulled up to the rental place, it was dark and the place was closed. The sign said they closed at 8pm…why was I able to book a pick up at the time they closed, I will never know. Rica suggested we switch places and she drive while I call the reservations line to see if anywhere else was open. The only place available was the airport which was all the way on the other side of the city! Once we got to the place, things ran fairly smoothly. I was fairly stressed because I still had to drive all the way back to the office, work and pack. It was hitting me that I wasn't even going to have the chance to rest before we left. Rica somehow managed to get the guy at the counter not charge us for an additional driver and the insurance was cheaper than I had seen on the net so that was good. On the way back to work, I found out that part of the highway would be closed when we left and I started to get discouraged again but kept thinking that things would be better once we got on the road.
As I thought, I had just enough time to pack and prepare my stuff for the trip before Rica called and told me she was on her way to get me. Certain parts of the highway were closed and we got a little lost during a detour heading to the border. When we got to the bridge we had a (enter sarcasm here) wonderful chat with the customs officer. He was quite abrupt with us especially when we told him where we were going and why, he demanded to know how we ended up with friends all the way down in North Carolina. I know it was a tactic to get us scared and it made me nervous but he let us go with no other problems. The drive down was pretty good. The scenery was great as we drove through Pennsylvania, West Virginia, Virginia and finally through North Carolina. I went in and out of sleep periodically while giving Rica directions. I didn't feel too bad even though I know I didn't really sleep much. We only stopped a few times to refuel and grab food on the way. We amused ourselves by taking a few pictures and video, listening to music and dancing in the car. We even smiled at waved at construction workers who happily smiled and waved at us as we drove by! Lol!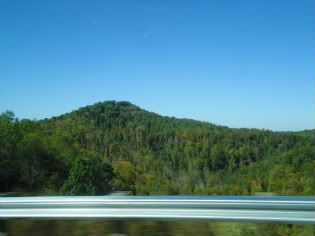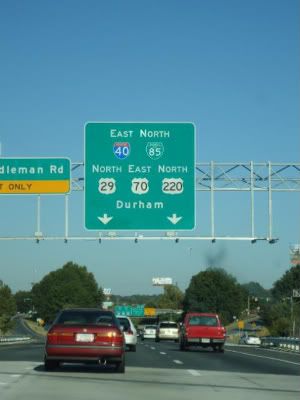 The Holiday Inn Express we booked was right off the highway and 5 minutes away from where Darien lives. The hotel looked a lot nicer than it did on the website and the staff there was pretty friendly. They ended up giving us a wheelchair accessible room, not sure why but we were happy because our room was pretty big with a huge bathroom. Darien and his friend, Lou came by to pick us up for dinner. We ended up letting Darien drive our car and we went to The Cheesecake Factory. Rica & I looked forward to going there for 2 reasons: 1. we don't have Cheesecake Factory in Canada and 2. they have a red velvet cheesecake that we were dying to try! Because it was a Friday night, we were told we'd have a 45 minute wait for a table. To amuse ourselves while waiting, we took pictures outside and joked around. Rica even tried to get a pic with a police officer but was shut down…lol! She claimed she could carry Lou and she actually did so I took a pic of that. I swear folks were looking at all of us fooling around and laughing but we didn't care!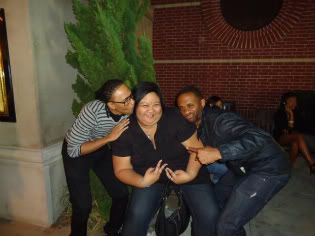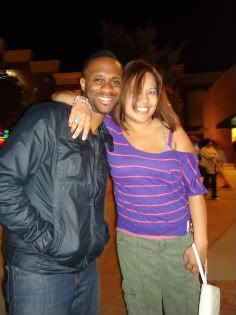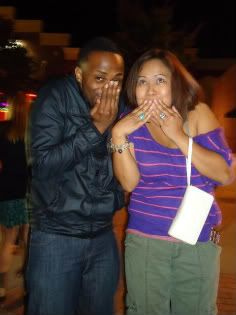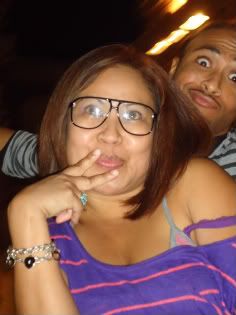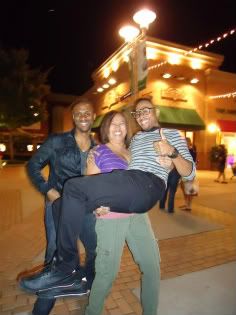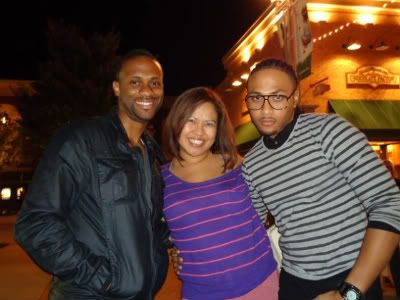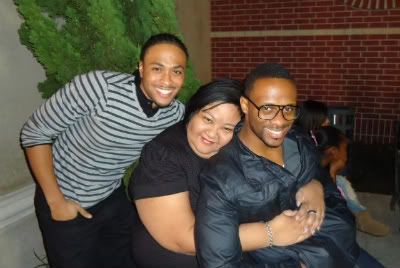 Once we put in our food and drink orders, we saw the staff sing Happy Birthday to someone a few tables down and they were rather pathetic. It sounded like they were grumbling instead of singing and we laughed about that. After struggling through dinner, (the food was sooo good but their portions were HUGE!) Rica whispered to me that she was going to tell the waitress that it was Darien's birthday even though it wasn't. I couldn't barely look at Darien with a straight face until about 4 or 5 waiters came with his cheesecake all decorated with a candle! D was embarrassed, of course but he took it like a champ despite him refusing to give the staff his name when they sang happy birthday to him! LOL! All in all, we had a good dinner out with great food, drinks and jokes. The Cheesecake Factory never disappoints!



Rica's ribs & The Red Velvet Cheesecake that we got!! YUMMY!!



Lou & Darien love to make faces! LOL!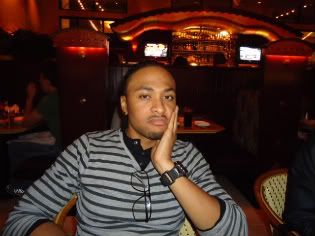 Hahaha! I love my best friends!



The birthday surprise! LOL!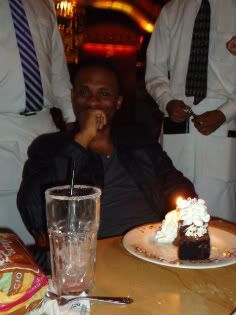 Lou's "Thank God it wasn't me" face and D's Chocolate Mousse Cheesecake!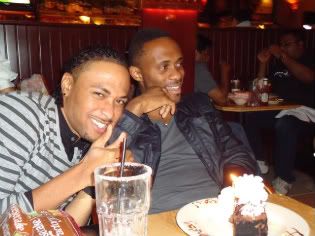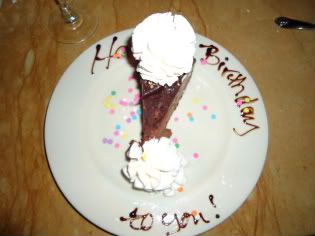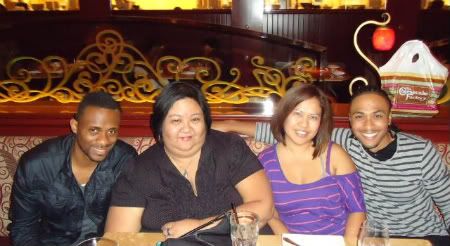 The next day, Rica and I ventured out to a mall nearby called Northgate. We pretty much spent the whole morning shopping. Rica ended up getting me to buy some stuff which included an olive green blouse (I've never been a fan of the color green! Lol!) to wear later on that night. Rica persuaded Darien to take us out clubbing even though he doesn't go out to clubs. I really didn't expect him to agree to it bust somehow she got him to say yes. Darien kept asking, "Do we really have to go?" and making other suggestions on what else we could do but eventually, he agreed saying he only said yes because we came from far away and also because he love us! LOL! We were originally supposed to meet Darien at another mall when he was finished with church but Rica & I managed to pretty much spend all our shopping money at Northgate! We decided to meet at the hotel but before that Rica and I went to Bojangles for lunch. If you know me, you should know how much I love Bojangles…there's nothing like their chicken, biscuits, fries and sweet tea! I think I got Rica hooked on sweet tea when we went to NYC in the summer because that's pretty much all she drank the whole time we were away and she took a few jugs home too!



When Darien came over, we went to the movies and ended up watching Life As We Know It. The film was actually better than we thought it would be. We ended up joking around and taking pics at the movie theatre as well. Out of pure coincidence, Darien and I matched and Rica thought we should take a couple of shots. Darien then took the camera and took pics of Rica and I which actually ended up being the only pics of the 2 of us together during our whole trip!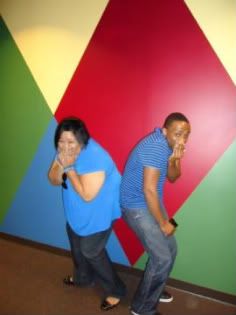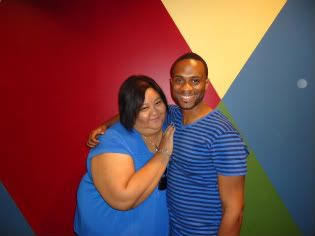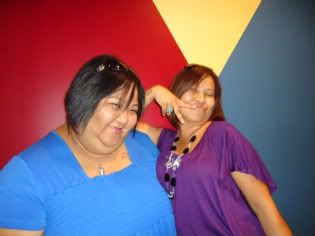 We spotted a water fountain outside the theater and Rica whispered to me to take out my camera and start filming because she planned to get Darien in it!



(Friendly Reminder: Don't forget to pause on the mp3 player on the top right before pressing play!)


This is what Darien looked like when he was waiting for Rica to get him! Lol!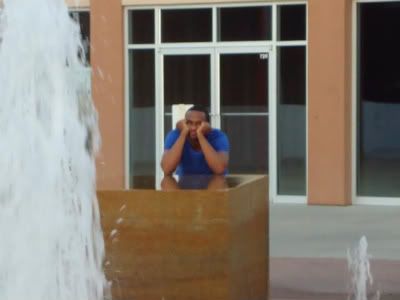 Wow, I didn't realize how long this was going to be! I think I'll end this here and come back with a part 2!