Every year for the last 4 years or so, I take a trip to North Carolina. Last year, I even went twice! This year, I stayed a bit longer than I normally do…why? Because I can! Lol! I got a really great deal this time around and was able to get direct flights! I was extremely happy about that!

For the last 3 years in about March/April, I've stayed with my girl, Kimmie and this year was no different. What's different this year is that now Kimmie lives in Winston Salem which seemed (if you're from NC, you can correct me if I'm wrong) in between Charlotte and the Raleigh/Durham area. I got to hang out with her son, Qadir again and met Kimmie's man, Tut as well.

On my first day in town, Kimmie, Tut, Q and I had lunch at The Cheesecake Factory which was really good as usual. I was kinda sad that I was too full for cheesecake and I couldn't take it to go cuz the plan was to be out all day! After lunch, I met up with Julie of WoodvilleINC to get my necklace that was customized with my logo. Woodville makes custom wood jewelry and they are amazing! Make sure you check them out! Check out my necklace! I LOVE IT!!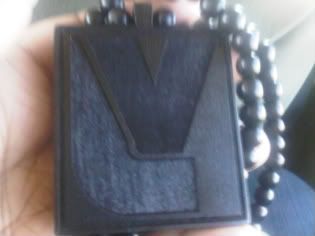 Later, that day, 9th Wonder had a meet and greet/video shoot along with his It's A Wonderful World Music Group (IWWMG) in Charlotte. What a great event that was! It was held at a sneaker boutique called Velocity.



Qadir, Tut & I outside of Velocity outside of Velocity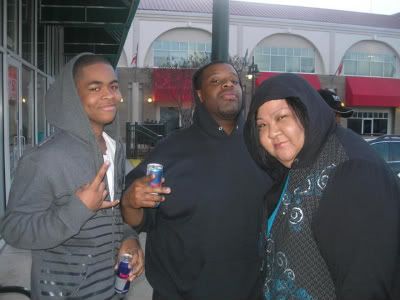 The turn out was really great! At first, there was a huge Red Bull truck set up outside with DJ equipment and loud speakers. 9th was playing out there while director, Kenneth Price filmed some footage for Big Remo's video, SlumDog. Eventually though, everything had to be moved inside. I heard that some folks where complaining about the noise despite 9th turning the volume down at one point! I stayed outside, hoping to stay off camera (I was feeling extremely shy that day! Lol!) and watching through the window so some of the shots I post are from Kimmie.



9th Wonder on the 1s & 2s!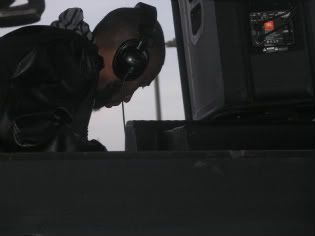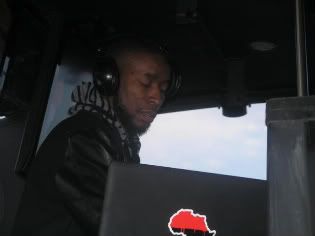 The view from outside & the some of the IWWMG artists
Fun with Sundown (L) & Enigma (R) of Actual Proof and E. Jones (C)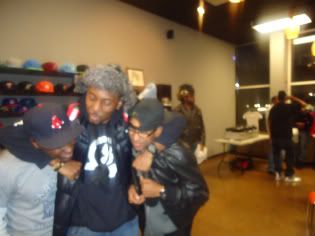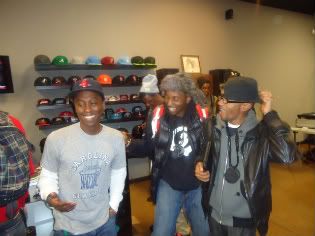 Later, when the filming was done, I just spent time hanging out with my friends like E. Jones, DJ Cuzzin B, Rapsody, Sundown & Enigma from Actual Proof and of course, 9th. I also saw a bunch of folks that I've known via the net for a while but never met in person like HaLo, Khrysis, Kash, Big Remo, TP, Sean Boog & Thee Tom Hardy. It was so great to see everyone and even though I was extremely tired, I had a lot of fun and laughs that night!



Me with my boy, HaLo and my fave pic of the night, E. Jones, me and DJ Cuzzin B! Keep in mind I had no clue that they posed like that! LOL!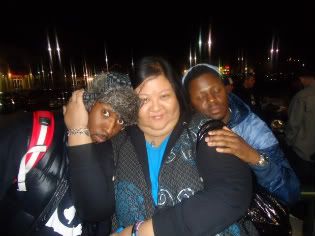 With Khrysis and With Enigma (L) & Sundown (R) of Actual Proof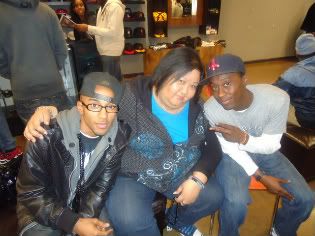 Kimmie & I with one of the top female MCs out right now, Rapsody
9th Wonder & I...kinda upset that I blinked in this pic...goes to show you how tired i was! SMH! I didn't even bug him about smiling in my pic this time! LOL!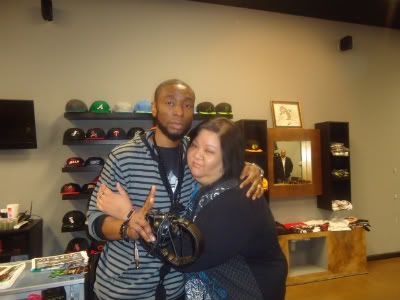 The next few days after that were very chill which was much needed. I've been so stressed and exhausted that it was just nice to relax and just breathe! There were so many events/parties that I could have gone to but I was just happy spending time with Kimmie, hanging out, shopping and of course, eating!!! Any trip to NC is incomplete without going to Bojangles!! If y'all know me, you KNOW I need to go there to get my fix EVERY TIME I visit! Kimmie and I actually went twice! LOL! I also experienced my first Cook Out shake! I kept hearing about these shakes at a food spot called Cook Out but in all the years I've been going to NC, I've never been. I always thought, "What's the big deal about these shakes?" Boyyyy, did I find out!! We went through the drive-thru and Kimmie asked which shake I wanted. To my surprise, there were over 30 types! It took me a bit to decide but I just chose the first flavor that stuck out to me and that was the Peach Cobbler. OH. MY. GOD! It was soooo good! I can't even begin to explain! Lol! Let's just say that from now on, my trips to NC will not be complete with out Bojangles AND a Cook Out shake!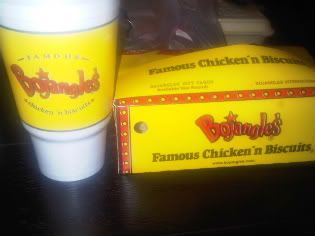 Saturday night, Kimmie and I ventured out to Charlotte to meet up with my boy, Kam at a French bakery called Amelie's which is to die for! It's open 24 hours and the food is really great. I didn't have any dessert but they looked amazing too! I hadn't seen Kam since we were in NYC back in Oct 2009. A lot had happened since then…the most significant was that he quit music back in April 2010. I was soo happy to finally meet his family as well! Kam's daughter looks JUST like him! She's adorable too. Even though we knew of each other before, Kam's wife and I really became friends after I wrote a piece on Kam after he quit the industry which you can see by clicking here. Ann is such a sweetheart and we all had such a good time together. Foolishly, I forgot to take pictures of us that night though! :(



Here's a pic of Kimmie & I just before we left for Charlotte





Sunday was a quiet day. In the afternoon, Kimmie and Tut drove me over to Durham. I was spending the remainder of my trip in Durham at a hotel. The Four Points Sheraton was a nice hotel. I didn't do much that day except indulged in some major chill/relaxation time, which was much needed.

Monday, my last day was spent hanging out with Darien. First, we went out to lunch with our friend Lou, Darien's sister, Terrica and her friend. We all met up at a place called Elmo's Diner. I was excited to meet Terrica up until then we were only facebook friends…it was great to see her. I had a lot of fun with all of them and the food was goooooood! It took us forever to figure out what to eat! I ended up eating salmon cakes...never had them before but they were yummy! When we were getting ready to leave, for some reason, Terrica ended up falling! All I know is that we were all joking around and next thing I know, I saw her on the floor! I know this is kinda bad but we all laughed! LOL! Darien didn't even help his sister up and I even took out my cam and got a pic of her on the floor!! HAHA! Terrica, if you read this...I love you! LOL! After lunch, D and I dropped Lou at school as he came to lunch during his break between classes. He was acting a fool in the back, of course!




Darien took me all over Durham which was really great. He showed me where he grew up and where he goes to church. He also took me to the Chop Shop, if you're a fan of Little Brother and the Justus League, you would know that the Chop Shop is where a lot of their material was recorded. It was also where Darien's album was recorded. We bumped into Joe Scudda who was recording there. It was cool to see him. Down the hall from the Chop Shop, is the office of Kompleks Creative Inc. Kompleks is a graphic design studio founded by my boy, Tobias Rose. They've done a lot of design work with The Foreign Exchange which is how I got to know Tobias a few years back. He had no clue that I was in town so Darien walked up to his desk first. When I walked up and stood beside D, Tobias' look of shock was priceless!! LOL! It was great finally meeting him in person too and we stayed there for a long while just talking and hanging out.

We then went to North Carolina Central University (NCCU). NCCU is where practically everyone I know went to school: Phonte, Rapper Big Pooh, Darien, Yahzarah etc. Some of y'all may not know Darien has gone back to NCCU to finish school and I'm so proud that he has. He took me around campus which was really cool to see. D's a pretty good tour guide! Lol! ;)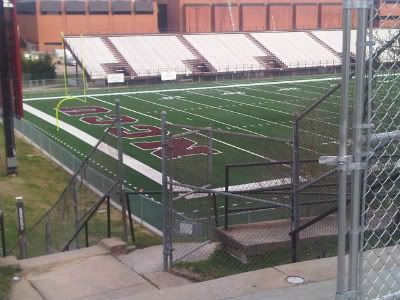 We drove around some more after that and eventually ended up at Southpoint Mall which was next to my hotel. Southpoint is a really nice mall. I didn't buy anything though, we just walked around and looked at stuff. Darien told me a story about when Somebody To Love came out how he thought it was so cool that the FYE had it for sale there. He had to laugh though because he said that for some reason they had in categorized in the Rap section. Just for fun, I wanted to go in and see if I could find it. We went to the R&B section and…nothing. Then we went to the Rap section and low and behold, look what I found:




I tried to get D to pose by his name but he refused…I dunno why! LOL! It was really great being able to just hang out and catch up with Darien. I just wish we had more that one day together.




I had a really early pick up so I made up my mind not to sleep that night. Luckily, I have friends that are night owls just like me. HaLo got off work at 2am and came to hang out with me until my airport transportation picked me up at 4:30. HaLo offered to take me himself but the shuttle was already prepaid with my travel package. I'm really thankful HaLo came to spend time with me and saw me off. It really didn't feel like we just met for the first time a few days before. I'm blessed to have him as a friend, he's such an awesome person.

My trip home was uneventful besides the fact that I hadn't slept. My driver was soo amazing though! He had me laughing all the airport! Ever heard someone say there's a difference between being "southern" and being "country"? Yeah, my dude was straight country! He was so charming and funny; just what I needed that morning! I swear if I could've filmed him talking, I would have!! LOL!

What I do have to admit is that it was harder leaving this time…not sure why or how to explain it. I know that it always seems like I never stay in North Carolina long enough when I get there and there's always someone I end up not seeing. All I know is the more and more I go to NC, the more I feel like it's my 2nd home. My chest felt so heavy at the airport when I was leaving. I swear I feel like a part of me stayed there. With that being said, I really can't wait to go back. Thanks to all my friends that are more like family to me, who made me smile and laugh while I was there. I miss every one of you and I'll see y'all again soon! xo