Greetings everyone! I apologize for disappearing. The only reason I have to give without getting too personal is that life's been getting in the way lately and it's affecting my creative mind and motivation. This entry is hopefully the start of more posts with music freebies and a post about a recent trip to NC coming soon!
In the meantime, I have a bunch of things I'd like to share about what's been going on with me…
1) I Won A Contest!!!
One of my fave male singers is Dwele, if you know me, you should know that! J A few months ago on twitter, Dwele's fan account, @dwelefans held a contest. They posted a lyric and the first one to identify the song title and album won a personal video from Dwele himself! It was a tough one. They even had to post a hint as to which album the lyric was from because no one was getting it. Finally, I posted the answer and I WON! This video makes me smile REAL BIG every time I see it. I hope he comes through on his promise of owing me a steak dinner! LOL!

(Friendly Reminder: Don't forget to pause on the mp3 player on the top right before pressing play!)

2) Rixxor
Rixxor is an online magazine that focuses on independent music. It officially launched April 29, 2011 and I'm so excited about it. It is with great pride that I tell you I wrote an article which will be published in Rixxor's debut issue! My piece is about my friends, the It's A Wonderful World Music Group! It's my 1st majorly published article! A big thank you goes to Krystina for letting me be a part of her vision! I look forward to writing for Rixxor again!
Here's a screenshot of my article:
To view Rixxor, please register on the magazine's site, http://www.rixxor.com and once you do, you'll be able to see the debut issue and of course, the issues to come!
3) I'm A Year Older!
I celebrated my bday on May 27th. The month of May has become a bit of a downer for me with my mama's birthday and Mother's Day just days apart from each other. I hadn't very social for awhile so I decided that it was time for me to force myself to do something. I decided to have a dinner party at a restaurant downtown with 17 of my closest friends and family. I was really anxious about it because birthday plans never worked out for me over the years but it really was great! I decided to break out a dress (yes, I've been wearing some dresses lately! Lol) and had a great time! I was also ecstatic because I got a frame of my article from my brother and his family. Here's a few photos from that night: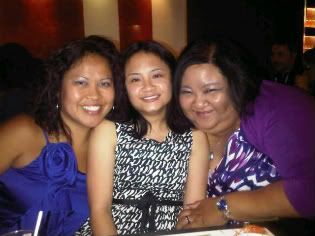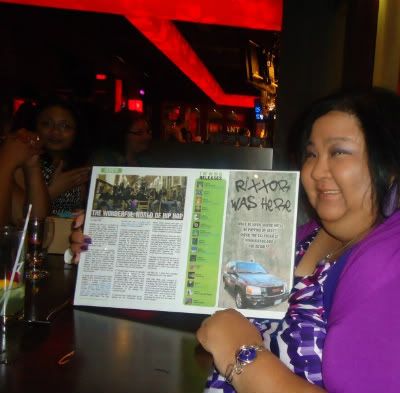 4) The Jamla Army
A while back, 9th Wonder announced he and his team were putting together The Jamla Army. Folks were to fill out applications to be considered to be a part of a marketing/promotion team for 9th's label, Jamla Records. In the beginning of June the 1st platoon was announced and I'm proud to say I was chosen along with 16 others. Just recently, the 2nd platoon was also announced and now there are a total of 33 of us that are spread out in different parts of the US, Canada and the UK. We were all given code names by 9th Wonder himself fashioned after GI Joe. All of us were totally amazed at the detail 9th went into choosing the names for us because they were all quite fitting. My code name is Firewall and she's known as a computer assassin which is funny because I do moderate the chat in his live studio sessions on ustream and have had to kick out and ban certain folks from his site. Oh and get this, Firewall is also Asian! LOL! Here's a shot of what Firewall looks like: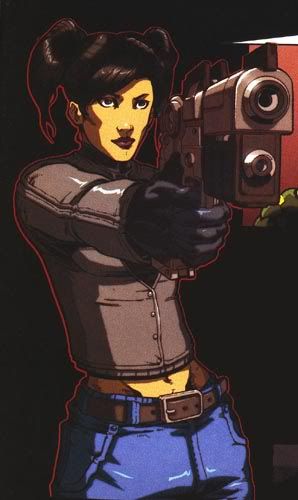 The army hasn't been assembled for a whole month yet but we've already made an impact on the net with a blog, Facebook page, Twitter and much more! It's a fun and exciting time with soo many releases coming out of the Jamla camp and being in a group with a bunch of like minded and equally passionate individuals has been great! If you want to check us out, click on the following links: The Jamla Army on Facebook, Twitter, Tumblr, Sound Cloud & YouTube.