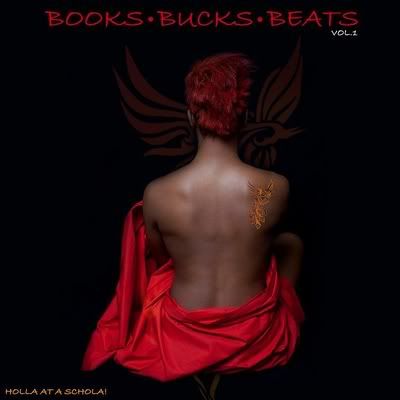 pHoenix Pagliacci is a sassy rapper/singer hailing from Toronto who's name is based on Phoenix, the bird that never dies and always comes back and Pagliacci, the clown with the dark, sad life. She explained the meaning as "The Bird that flies and the clown that cries."
Books, Bucks & Beats Volume 1: Holla At A Schola, pHoenix's first project, was released on Nov 11th. I have been looking forward to hearing an album from her ever since I had gotten to know her on Twitter. The title represents her 3 drives in life: education & a constant need to learn, income and of course, music.
This 13 track album includes features and production from Tona, PG, Rapsody, Kashdntmkebeats, Merciless, The Sol Kidd and much more. It showcases pHoenix's singing and rapping abilities…very well I might add. Books, Bucks & Beats Volume 1: Holla At A Schola is a good listen but of course, I have my favorites. While I've chosen to write about 4 tracks, other favorites are Love Me More, Product Of Our Environment, Limit and Hard In The Rain.
Nostalgia
This was the first jam that stuck out to me. pHoe reminisces about a passed relationship. I love the sincerity of her voice as she sings, "I wanna go back, why can't I go back? Please let me go back...to the way it used to be…when you was a friend to me…" I really like the groove of this song and the lyrics are very relatable.
War Featuring Miss G, Lola Bunz & L.A.
First I want to say how I love the way Jinx Beats flipped this sample! pHoenix calls upon a group of female MCs: Miss G, Lola Bunz & L.A. Alongside the crazy beat, all these ladies pack a punch worthy of this joint's title.
Illusion of Grandeur
I've had this song in constant rotation since the album came out. Illusion of Grandeur is a perfect example how witty a lyricist pHoenix is. The beat, the way she raps and sings on it makes me hype! I've been known to drive around blasting this song!
The World (It's Yours) Featuring Junia T
I'm a big fan of songs with encouraging lyrics so this joint would naturally be a favorite of mine. The more I hear pHoenix sing I'm starting to realize that while I do love her as a rapper, I think I like her just a bit more as a singer.
All in all, I see Books, Bucks & Beats Volume 1: Holla At A Schola as a great start to a very promising career for pHoenix Pagliacci. After listening to the album, she proves to be a witty writer which helps showcase her singing/rapping skills. The fact that she is from my hometown is icing on the cake! She definitely has my support!
pHoenix Pagliacci's Books, Bucks & Beats Volume 1: Holla At A Schola is available on itunes by clicking here or on the cover art above. You can also purchase digital and hard copies via cdbaby.com.