Ahh, traveling….oh how I love thee! I've said it before and I'll say it again, there's something about going on a trip that rejuvenates me. This time it was no different. Again, I found myself at my wits end and in the midst of burn out. I was stressed, depressed and over tired. My bff, Rica and I have been trying to go away together since early this year. She was supposed to go to North Carolina with me back in March but due to scheduling and my urgent need to get out of the city, it didn't happen. Ever since my first trip to New York in October, I was dying to go back. Since my girl, Ann Marie was leaving to come back to Toronto in August, I wanted to go and see her there again. Finally, Rica & I were able to plan a long weekend to NYC. Everything just kinda fell into place: money was tight but it worked out, Rica was able to work out leaving the hubby with the kids, we found a great deal on flights and a hotel really close to Times Square and to top it off, The Foreign Exchange were headlining at B.B. King's. It was a great late birthday gift. Ann Marie's bday was just before mine and it was the birthday weekend of another friend of ours, Joann. Celebrating, shopping and just having fun were on the agenda and we could not wait!
I never realized how used to flying alone I am until I got to the airport and met up with Rica. While I didn't mind traveling by myself, it was great having the company. Rica had me cracking up from the moment we checked in. This was our first time traveling together but I wasn't the least bit worried. I just knew we were in for a lot of fun especially when we were waiting to take off and she made a hand puppet of the barf bag!



Instead of taking a cab, we paid for a shuttle to get us to the hotel. We arrived at 5 so we were in the midst of rush hour traffic. The ride to the city was definitely and interesting one! We were in a van full of passengers and I ended up sitting up front with the driver with Rica right behind me. He had the radio on and he ended up serenading me a bit! Then "Call Me" by Blondie came on and it was Rica's turn to sing. We definitely entertained the girl from Colorado sitting next to Rica. LOL! We drove through some tight spaces when we got off the freeway which made me jump a bit. At one point, the driver bumped someone's mirror and another time a delivery truck driver tucked his mirror in just so we could get by him because he was double parked! One things for sure, I know I'm an aggressive city driver but I refuse to drive in New York! LOL! Thankfully, we were the 3rd or 4th stop because I think both Rica and I were both getting dizzy from the drive. Our hotel was pretty decent…a little small but good enough, clean and a really comfy bed. The location was pretty great. We weren't totally sure how close we were to Times Square until we got there and it was literally down the street, not even a 10 minute walk…well, it depends how well you walk…towards the end of the trip, my feet had it with me! LOL!
Rica and I had plans to meet Ann Marie for dinner in Chelsea at this place called Elmo. I was so excited to see her! Unfortunately as we made our plans to meet, I was getting warning signs of a migraine; my vision was getting very blurred and fuzzy. Rica decided to take a nap and I took some meds and did the same. We ended up taking a cab to the restaurant because we ran late getting ready. Elmo was pretty place and all the staff were good looking. Ann Marie had told us that we were in a "hippy gay" area so needless to say all the beautiful men we saw….yeah, we weren't their type! Lol! The food was great and when it was time, Rica got the waiter to put candles on mine and Ann Marie's dessert. Thank goodness they listened to me and didn't sing Happy Birthday! Lol!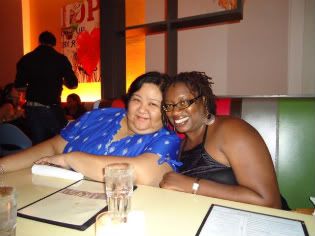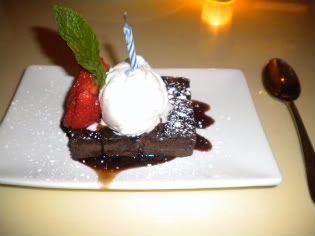 Saturday was probably our busiest day. We had a Starbucks (our fave!) down the street from us but since we could get Starbucks at home we decided to start our day at a café called Dean & Deluca. It was realllyyyy good. I fell in love with their Red Velvet cupcakes there. They literally made me stomp my feet and roll my eyes! Lol! I'm kidding but oh my, the cupcake was amazing!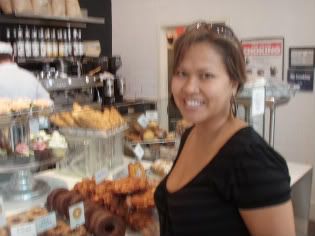 We spent most of the afternoon in Times Square, taking in the sights and taking pics. We saw this guy handing out flyers for this King Tut exhibit. He was wearing this Pharoah hat so I told Rica to go and take a pic with him. She was braver than I thought cuz next thing I know, she's asking dude if she could wear it! LOL!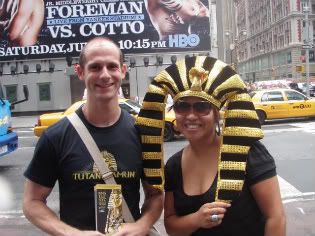 The majority of our time was spent in the huge Toy R Us store. I think it was 3 or 4 floors and had a fully functional ferris wheel inside, which wasn't working that particular day…lol! Rica took these awesome pics with Iron Man and Spider Man that had everyone around laughing. I was like a kid when I saw Optimus Prime….ahh, I love Transformers! On the way out it was time to pic up Rica's pictures. As we approached, the dude at the counter spotted her and said, "Oh I know what you're coming here for! You took the best pics ever!" We couldn't stop laughing!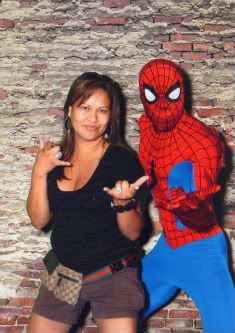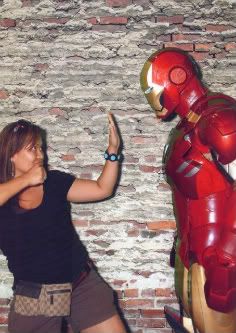 We had plans to meet up with Rica's friend, Kerensa at the Olive Garden. Rica and I had been looking forward to going to Olive Garden since we started planning our trip! LOL! Just outside the restaurant, we bumped into Cookie Monster so we took pics with him. If you ask me, Cookie was getting a lil' fresh with Rica! He looks like he was trying to look down her shirt! LOL!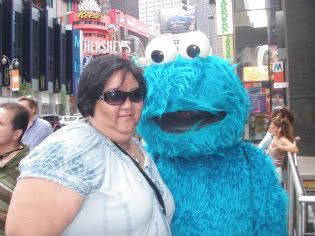 Olive Garden was just as good as we remembered too! Kerensa's really sweet and it was really great to meet her. Another monumental moment is that Rica actually ate SALAD!! This girl DOES NOT eat veggies but I've got photographic proof that she ate it! I'm so proud of her! Hahaha!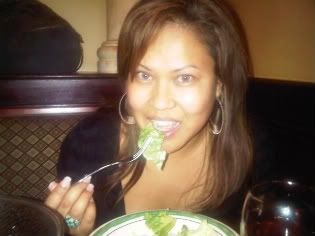 After lunch, the 3 of us went into the M&M store which was just around the corner from the restaurant. The place was a mad house but we had fun looking around and we bought a few things.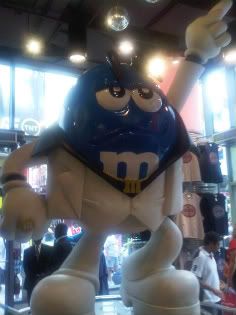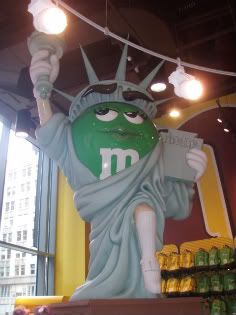 We then took the subway over to Canal Street. For those not familiar, Canal is where you can see all types of vendors on the street selling everything from designer bags, jewelry and perfumes. Let's just say this is probably where Rica and I spent most our money! LOL! It was different from when I was down there back in October but Kerensa said that the police have really been cracking down on the vendors. Things were more secretive this time around. For example, we stood on a side street while Rica was trying to get a watch for her man. She basically just told the dude what she was looking for and he went somewhere around the corner, came back hiding the watch in his pocket. At one point, we were on one corner looking at jewelry and heard the sound of a cop car. Suddenly, a huge herd of vendors went running all over the place with their luggage and bags over merchandise in tow. It was actually quite funny to see them disperse! I so wish I was able to take a picture right then!
Later that night, Rica & I had plans to go to a comedy show. We bought tickets while we were in Times Square earlier and it seemed like a great idea. We got dressed up and walked our way over there. I'm pretty proud that all throughout the time we were there, not once did we look at a map, I remembered quite a bit of the city and my sense of direction was pretty good. It was really humid that night and if you know me well, my tolerance for heat is almost non-existent. To make a long story short, there were a decent amount of people there for the show and we ended up in this small room. Not only was their no air conditioning, we had a 2 drink minimum which we knew when we bout the tickets for $10 each AND we looked on the menu to find out there was a mandatory 18% gratuity!! Rica and I just looked at each other and neither of us were happy. We just left figuring that losing $10 is better than sitting there in the heat, buying 2 $8 beverages each plus 18%. Wow, that was a bust! We just ended up walking around Time Square. The vibe in that area is so different at night.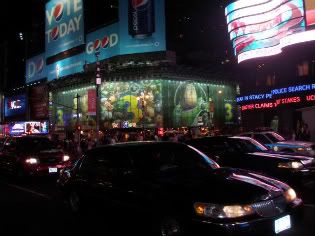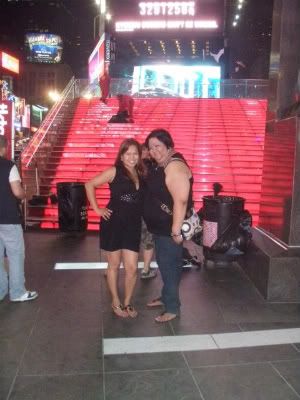 While slowly making our way back to the hotel, Rica decided to get a cartoon drawing over herself. The artist was amazing!



PHEW!! That was a lot to write and it was only my first 2 days! I'll be back with part 2 of my trip recap soon which includes The Foreign Exchange show at BB Kings!