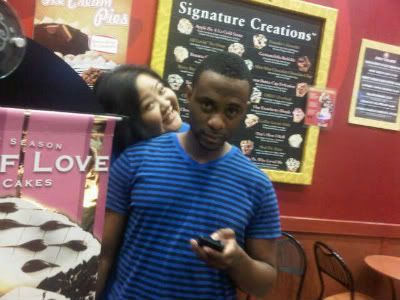 Let's see…where did I leave off from Part 1? Hmmm….

After the movies, we decided to go to Cold Stone for some ice cream. As Darien drove, I decided to film another video. I'm so glad I did because it actually turned out quite funny! See for yourself: (Friendly Reminder: Don't forget to pause on the mp3 player on the top right before pressing play!)





Lou met us at Cold Stone and we ended up hanging out there for a while. Darien continued to ask us if we REALLY wanted to go out that night, hoping that Rica would change her mind. It was then that a deal was made: Darien vowed he would take us out clubbing only if we would go see a scary movie with them the next day. I agreed right away because I actually like scary movies, it was Rica who was afraid. Eventually, she agreed and it was like the tables were turned because now Rica started to complain asking if we REALLY had to go the movies! Lol!
Before going back to the hotel, we made a quick stop at Babies R Us because Rica wanted to do some shopping for her youngest son. Darien and I walked around with her, talking and amusing ourselves while she looked around. We found this display with these unusual looking toys called Sing-A-Ma-Jigs and started to play with them. They're supposed to sound very melodic to babies but when Darien started to play with it, it just sounded funny! I whipped out my blackberry and took this video:




Darien seemed soo amused with it, didn't he?? Lol! After a bit, he actually figured out how to make it sing and looked pretty proud of himself!




Rica found some very cute things for her son and soon, Darien dropped us off at the hotel so we can relax a bit before going out. Rica ended up doing my hair and make up that night. I swear I felt like I traveled with a personal stylist. I have to admit, I felt really pretty though. Even though the blouse was a color I never considered wearing, I actually came to really like it. I also wore a pair of heels that I bought that day!
The guys came to get us around midnight and we drove to Raleigh. We ended up going to a place where you pay one cover and it gives you admission to 3 different clubs. As we approached the first place called Red Room (I think that's what it was called!), I noticed the bouncer looking at us but mostly at Darien. I thought it was weird and then I found out why: he asked Darien for his ID, looked at it and said, "Yo, I thought it was you! What up, D-Brock?" D seemed surprised that he got recognized but smiled and gave the guy daps. Next thing you know, the bouncer asked if it was just 4 of us together and told the girl at the door to let us through! I was cracking up because on the Friday when we were waiting for a table at Cheesecake Factory, I asked Darien if he ever gets recognized because I noticed some folks looking at him. He said no, hardly ever and if they do, they don't say anything. We started to tease him, calling him a star and he kept saying, "That never happens to me, I swear." We told him it's probably because he never goes out! Lol!
The 2nd place we went to was Bogarts. The funny thing is when we were about to park and saw the name Bogarts, it somehow rang a bell with me and I couldn't figure out why. I just shrugged it off, thinking perhaps I've just heard of it because some friends had mentioned that they went there before. When we walked in, I recognized the bouncer at the entrance as the dude that did Idris Elba's personal security at 9th Wonder's party the last time I was in NC. He also works with my boy DJ Forge at the airport as security and was the guy that scared the crap out of me by coming on the plane just before take off to say hi to me! Lol! He smiled and said hi but I wasn't sure if he remembered me so I didn't say anything. There were more people at Bogarts than Red Room so after going to the bar, we went to the dance floor. After awhile, I saw the bouncer again so I decided to say something to him. To my surprise, he did recognize me. I just said: "Hi, I don't know if you remember me but…" and he cut me off and said, "You're Lady Vee from Canada, right? I knew it was you. I even went to Forge and asked if you were supposed to be in town cuz I recognized you." Then I was like, "Forge? He's here?" and he told me yeah and pointed to the stage. It hit me right there why Bogarts sounded familiar. A few weeks back, I asked Forge where he'd be playing when I'm in town cuz we might convince Darien to take us out and he mentioned Bogarts, saying to let him know if we were going. The bouncer escorted me to the stage and I just walked right up there to say hi. We laughed when I told him I didn't tell him I was coming because I didn't know where Darien was taking us and we spoke for a bit. I guess Darien noticed who I was talking to because he came up on stage to say hi as well.
After we got off the stage, we left Rica & Lou on the dance floor and went to sit in a booth. He wasn't really feeling it and I don't usually dance much when I go out so we just hung out. D started to ask if I knew how much longer we'd be out and I started to laugh. I honestly wasn't feeling it that much either plus the new shoes I was wearing were starting to really hurt. Eventually, Rica & Lou found us so we went downstairs to the last place. I forget what the last place was called but none of us were feeling it at all. It looked more like a sports bar then a club, the guys seemed really creepy to me and I'm not snob but the caliber of the folks there wasn't great. Needless to say, we didn't last 15 minutes in that place and I think we were all glad that we left!
Not sure how it came about but when we made our way back to the car, we ended up fooling around and taking a bunch of pictures. Darien and Lou constantly pretended to be models and put on their "serious model looks" and I, as you can see, could NOT stop laughing/smiling! LOL!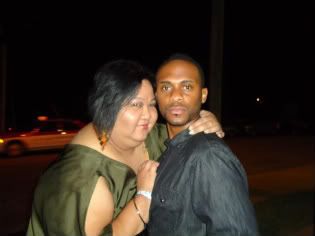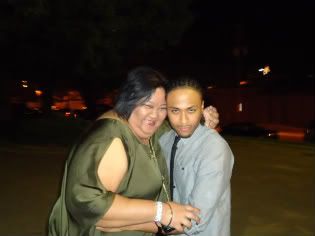 At one point, I tried to take a pic of Rica pretending to "relieve" herself on a fire hydrant which ended up dark and Darien decided to "show her how it's done".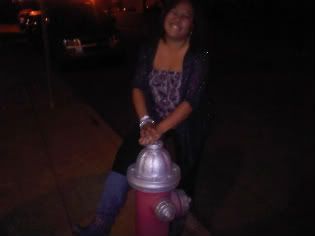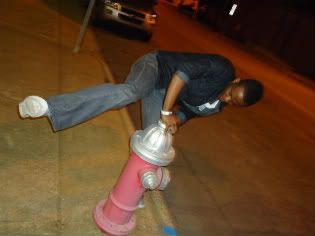 We ended up going to IHOP after to get some food. The people there were…for lack of a better word, "interesting". We arrived just before the rush then folks started streaming in clearly after a night of drinking. Darien got a new phone not long ago and was on it most of the time so I took a few pics of him without him even knowing! Lol!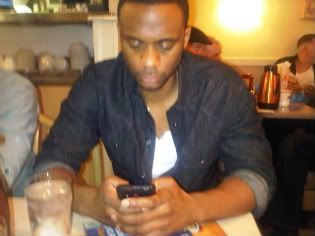 Once we finally got our food, it was actually really good. We were enjoying it until a group of girls came in and one of them pretty much spoiled our appetites. A chick came in wearing short that looked like a pair of black granny panties! Her front view you can easily see…ahem…camel toe…and in the back, the bottom of her butt cheeks were out…blacker then the rest of her legs AND the back of her thighs were ashy! Ugh, it was so gross! Rica & I stopped eating immediately! We attempted take a few shots of Darien reacting and pointing to her so we could post it on twitter! LOL!



We got home so late that Rica and I spent the next morning lying around until D and Lou came to pick us up. As promised, we went to see a scary movie. The guys decided to take us to see My Soul To Take in 3D! I actually wanted to see it but don't really have anyone to see scary movies with so I was looking forward to it. Rica, on the other hand, was nervous about it and when we went inside, she asked to sit in between Darien and Lou. She screamed during a preview and we laughed! Luckily, the theater wasn't that packed so no one complained that we were making noise.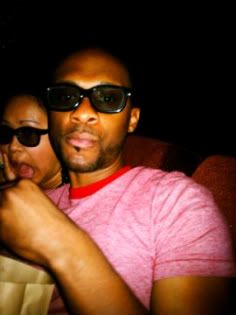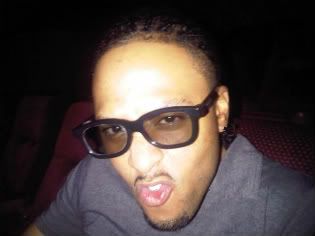 All throughout the movie, Rica was on edge! She would scream, jump, kick the chair in front of her but most of all, she would grab and/or squeeze Darien or Lou's arm. She even accidentally hit Lou on the head…I felt bad but Darien and I were laughing. I admitted to jumping and burying my head in Darien's shoulder a few times but that was about it! The movie was just okay to me, I think I had high expectations because it was a Wes Craven movie. I was kind of disappointed. Considering everything, Rica did well and Darien even said he was proud of her for sticking it out. I felt bad though because she was actually kind of freaked out and jumpy afterwards. I was also worried she wouldn't be able to sleep and we were planning to leave NC very early in the morning.
We went to Target afterwards to pick up some last minute things. Rica got a few things for her family and I went and got my favorite…Haribo Gummy Bears (which are all gone now! *sad face* I just got one 3 pound bag and I shared with my sis & papa, I knew I should've bought 2!!!).



The rest of the night was pretty chill. We just got some dinner and we all hung out at the hotel until late. Rica & I didn't end up leaving until about 5am. It was a pretty uneventful drive home. The fall colors were really showing at that time so the scenery was gorgeous.



The weather held up for most of the trip but of course, the temperature started to drop and it started to rain as we got close to the border. The border is where we hit traffic as well. We spent at least an hour just waiting and I was trying not to freak out because we were stuck on the bridge! I returned the rental with no problems and we got home safe.
All in all, although the trip was short and I didn't get to see a lot of people that I wanted to, it was great and much needed. The drive didn't seem as long as it was (12 hours) but I'm sure the fact that we had fun while driving played a part in that. Rica, thanks for helping me make this trip happen! I always have a good time when you're around, looking forward to more! Love you! I wanna thank Lou and of course, Darien for taking care of us while we were down. You guys really helped in lifting my spirits and kept me smiling and laughing which I really needed. I love you both…perhaps I love one more than the other..lol…but y'all know that!