Alright, now it's time for Part 2 of my New York City adventures. In case you missed it, see Part 1 HERE. Hmmm, now where did I leave off…

Sunday came and I was moving very slowly. I had a bad morning, waking up really upset from a dream but eventually got myself moving because Rica and I were so excited for this day. That night we were going to see The Foreign Exchange at BB Kings and I was really looking forward to spending time with my friends especially Darien. They had a show in Philly the day before so D said he would be in touch when he was free.
We started our day really late and our first stop was Dean & DeLuca again. We had to have our coffee! We didn't do much but walk around and shop a bit. We planned an early dinner at this restaurant, BBQs which I fell in love with in October when Ann Marie first took me there. It was also convenient because it was right next door to BB Kings. We got back to our hotel to get all dolled up. I had recently bought a dress for my birthday….if you know me well, you would know how much of a big deal that is! I can't even tell you the last time I put on a skirt let alone an actual dress! I also bought a pair of open sandals which is also a huge deal cuz I hardly ever show my feet but I treated myself to a pedicure at a fancy spa for my birthday as well! When we were in the process of planning this trip, Rica insisted that I pack the dress so I could wear it to the show, even saying that she'd do my hair and make up. I started to whine and complain saying going to the show is no big deal, I don't wanna dress up etc. "You're gonna WOW your friends. Pack your dress or else we're going shopping for one while we're there" she warned me. I reluctantly agreed, grumbling that I didn't know what the big deal was and that no one would probably notice. I spoke to Ann Marie before we got ready to go, discussing what we going to wear and all that. She laughed when she found out I was wear a dress saying our friend Joann, who was celebrating her bday along with us was also wearing a dress. Apparently, it was very rare for her too. Ann was soo excited saying she needs to take pictures because it was going to be a monumental moment! LOL!
By the time we were ready to leave, it started to get dark. When we checked the weather before we came, it said it was supposed to rain almost the whole weekend because it was humid. I guess we couldn't escape the rain entirely. It was less then a 10 minute walk to get to our destination but when we left and were just down the street from the hotel, it started to pour down! We were too close to jump in a cab so we opted to run from shelter to shelter all the way to the restaurant. Thankfully, we didn't get too soaked! We bumped into Joann who was standing in front of BBQs waiting for her friend, Keya so they could have dinner too. There she was in her dress, looking all cute and we laughed about how it was a big deal.
Rica loved BBQs and I was glad. I tell everyone I know that goes to NYC to go there. They really do have the best chicken wings. Their drinks are pretty big and taste great too. I had a frozen strawberry long island iced tea and Rica ordered a frozen apple martini.



While we ate, Darien called asking where we were. Since he was at the venue, he told me he'd come up and meet us. By the time he came, we were finished eating and weren't even halfway through our drinks. He mentioned that he could take us right into the venue but we'd have to leave ASAP before a line formed outside which meant we had to chug our drinks!! Darien stood there, bugging us to hurry up while the couple at the table next to us laughed. We experienced major brain freeze and when I stood up to go, I felt a bit unstable! LOL! We got out of BBQs and luckily no one was really around yet. It was really cool to see Foreign Exchange on the BB King's marquee. I don't think they were on the marquee last time in October because FE had the late show following Bobby Brown.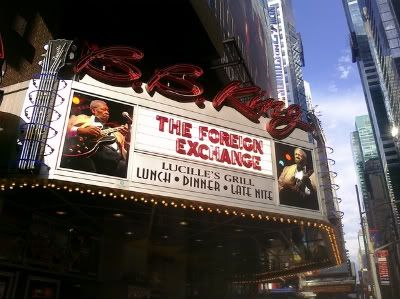 The opening band was rehearsing when we got downstairs and the first person I saw was Aimee. After saying hi, she told Darien that he had to go do an interview so he told us to go ahead backstage and he'd be there as soon as he could. Rica and I went behind the curtain and saw Nicolay sitting there so we spoke to him for awhile. He left us to prepare some stuff and Rica and I just stayed put, talking. I didn't know where to go and I felt weird just walking all over backstage looking for the rest of my friends so we were just waiting for D to finish when Yahzarah spotted us. She brought us into the room where D and I did out video blog last time and kept her company as she got ready for the show. Eventually, Darien came back and we all hung out, just talking and joking around. I wish I could share some of what happened back there but I can't! LOL! Let's just say some of us were acting the fool and we couldn't stop laughing! I also finally got to meet my boy, Daru Jones who is a phenomenal drummer and producer. He happened to walk in the room and we spotted each other right away. I was so excited to see him! We had been in constant contact since he was in Toronto a few years back, drumming for Slum Village. I also helped spread the word on him and his sister, Rena who's a great singer as well, got them a feature on HoneySoul.com. I'm sad because it totally slipped our minds to take a pic together and I didn't get to see him before he left. It was so great seeing Daru though!
Rica and I were having so much fun backstage that we didn't get to see the opening act, Jesse Boykins III who I absolutely love! I enjoyed listening to the show from the backroom but I do regret not seeing him perform.
Soon, it was time for them to hit the stage. Rica and I managed to slip out to a spot right by the stage. I saw Ann Marie and Joann front row center but it was too crowded to squeeze through to them. I didn't want to start any fights by being the tall person suddenly decided to stand in front of folks. As I expected, my friends put on a great show! It was Rica's first time seeing a Foreign Exchange show. I'm sure she enjoyed it and fun. In fact, you can hear her, cheering my friends on in some of my videos! LOL!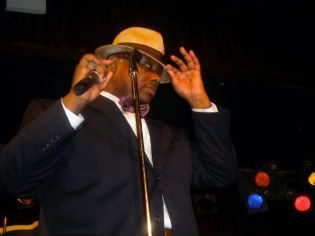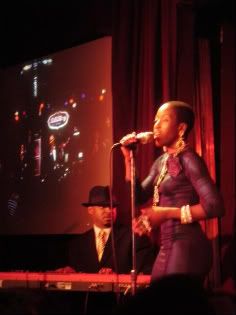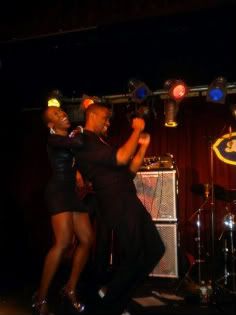 Videos




Remember to pause mp3 player top right of the screen before pressing play!



Sincere ~ Disco Style


I Wanna Know ~ Reggae Remix


Written All Over Your Face



Yahzarah performed a few songs from her album, The Ballad of Purple St. James and got a couple of them on video. I probably would've gotten more but it was my first time using my new camera. I guess I didn't set it up properly because my memory cards kept filling up faster than usual.



Why Dontcha Call Me No More



I was super excited that Yahzarah and Darien did their duet, All of My Days. Seeing them sing together like that was definitely the highlight of the night for me.




I was glad Aimee gave me the set list and the heads up on certain songs I should film so that I was able to enjoy most of the show, dancing and singing along. I could never get tired of seeing them perform. In fact, it makes me proud to see them up there performing their asses off. Their show is really something to experience, pure entertainment.
After the show, I met a few Facebook and twitter friends which was pretty cool. I didn't even know some of them were coming and was surprised that they recognized me. I saw my boy Keith who I met last year at the Foreign Exchange show.



Rica & I went over to Ann Marie and Joann as soon as we could. Of course, we took a bunch of pics together that night including a shot of the 2 "non-dress wearers" wearing dresses!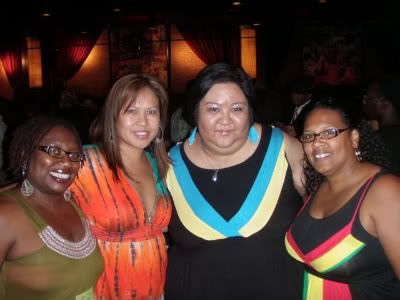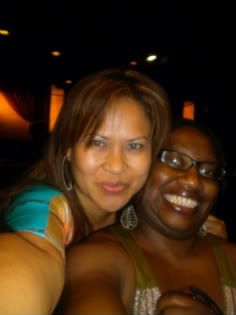 I also finally met my girl, Chelly (Michelle). She and I became friends awhile back on Facebook and is like a little sister. She's a huge fan of Darien's and a couple of years ago, D and I surprised her by calling her together on her birthday. Chelly had never met and I was happy to introduce them along with Chelly's cousin, Theodora.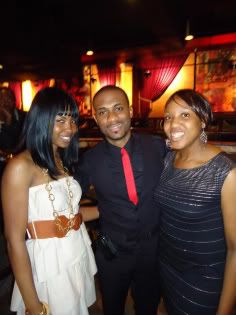 I didn't get to see Zo before the show so he was the first one I went up to. It was good to talk to him a bit. This was the first time I had seen any of them since mom passed shortly after I saw them last and each of my friends took the opportunity to ask how I was doing and how my family was. I was really touched. He also joked and asked me how many FE shows does this one make…6 to be exact! After we took a pic together, Zo started to fool around, making faces so I did the same and took another.



When we were able to, Rica and I grabbed Darien and Yahzarah for pictures before they went to change so we could leave. I really love the shot of all 4 of us together.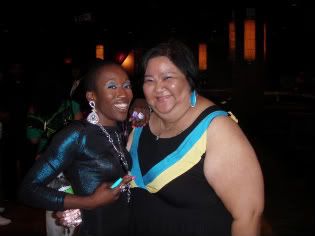 I also got a shot with Nicolay before he had to go backstage for an interview. I almost missed him because he was such in a rush but when I got his attention to ask for a picture he said, "Only cuz you're Lady Vee".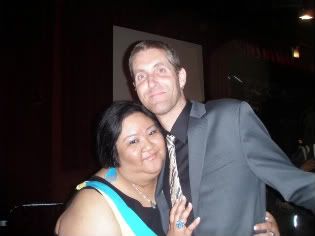 It seems like everyone's fave pic of that night is the one I took with Phonte. Folks were starting to file out at the point so I went over to him to properly say hi since I only saw him in passing when I was backstage. The time came to take our pic and both Rica and Ann Marie were both ready to take the shot. Next thing I know, Tay takes off his hat and starts putting his head down on me so I played along not realizing his facial expression until after! Everyone was cracking up! I'm so glad I've got 2 camera angles on this shot!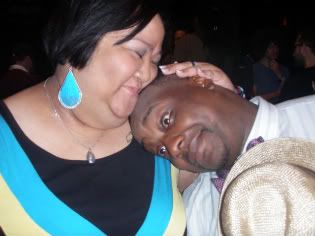 My feet and legs were tired from standing so I took a seat in one of the booth as my friends mingled and some went backstage to change to leave. I spotted Jesse Boykins III walking around. I got a little shy and nervous but as he walked over towards backstage, I smiled at him and blurted out "I love you, Jesse". He came over, smiling and said, "What? I'm sorry, I didn't hear you." I was embarrassed but managed to tell him that I love his work etc. He graciously said thank you and gave me a hug before continuing backstage. I swear I did a face palm after that! LOL!
The plan was that everyone was going up to BBQs for drinks so Rica, Ann Marie, Joann, Keya, Chelly, her cousin and I decided to go out to wait for them since security was rushing to clear the venue. We found out BBQs was closed so we waited around to figure out where to go. As we hung out there, I noticed Jesse was there too. I wanted to take a picture with him too but my shyness was way up again. Yes, it's silly I know! I cowardly told Chelly who knows Jesse to go there and ask for me. When she went over to ask him and she pointed me out to him, he raised his voice at me a bit saying "Why didn't you ask me yourself? C'mere you!" Needless to say, my friends laughed at me as Jesse, Chelly and I posed for a picture together. After Rica took the shot, she then told Chelly to "get out" so that I could have a pic just with Jesse.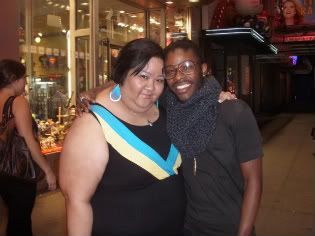 When everyone came out, we couldn't figure out a place where we could go so we decided just to go our separate ways. Darien asked what time we were leaving because they weren't leaving until Tuesday. We told him that our flight wasn't until late afternoon so D and I said that whoever woke up first, call and we'll meet up in the morning.
My feet had just about had it with me by the time everyone was leaving. While it was tempting to hop in a cab, we decided not to because we were really a few blocks away from our hotel. I think it was the longest walk ever! It literally hurt every time I took a step. By the time we got to our room, my feet were so swollen that my sandals were tight and hard to take off. Luckily, I brought my pain meds with me…
The next morning, Darien came by early and we were all dragging our asses! In fact, I met D in the lobby and we hung out there for awhile because Rica had just gotten in the shower when he said he was on his way. It was really good to just hang out and really talk face to face. Eventually, we went upstairs and he kept us company as we put the last of our things in our luggage so all we had to do was grab our bags and meet the shuttle when we got back. We also showed Darien some of the stuff we bought which included these foam Statue of Liberty crowns that Rica bought for her kids. She actually got us to wear them for a picture!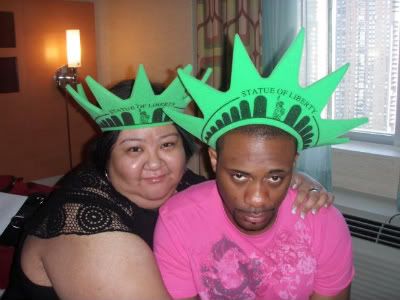 We wanted to get some lunch and since Darien had never eaten to BBQs before, we went back there. Rica also wanted to bring some wings home so we would have at least passed by there anyway. It felt like Rica was our photographer because she kept taking pics of us, even at the restaurant!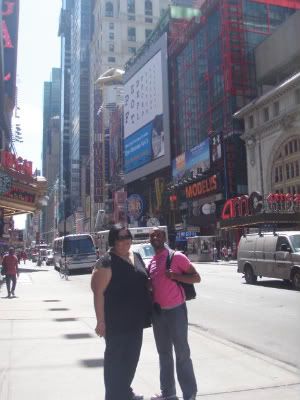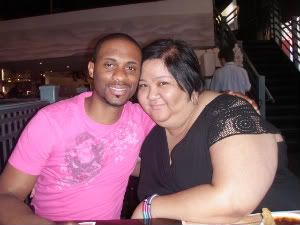 Lunch was great considering we were all so tired and run down but actually I think it made us extra silly! BBQs never seems to disappoint me and I think Darien enjoyed the food there too. After lunch, Rica continued being a photographer as we went around Broadway a bit. She even tried to take shots by putting the camera above and behind her head as she in front of us! Lol! Darien had to go back to the hotel to meet up with the crew soon because Yahzarah had a show that night and he was singing with her. We walked a few blocks then Darien decided to get a cab. He tried a few times to hail one but none of the cabbies would stop for him. I've heard of this happening but never seen it first hand. I wondered how Darien got the cab he took to our hotel and he said that the doorman had to get one for him. Rica tried it and hailed the first one that came. The driver tried not to look like he was concerned that Darien was getting instead of Rica but I saw it in his face. It's a damn shame things are like that.



Rica and I had a bit of time before meeting the shuttle so we slowly made our way back to the hotel. We passed by the McDonald's on 42nd so Rica could buy some sweet tea. I introduced her to sweet tea on Saturday and she loved it so much, she wanted to take some home! Hahaha!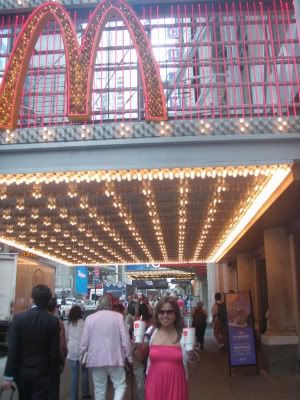 Once again, a trip has saved me from losing my sanity. All in all, the whole trip was pretty amazing besides the fact that my feet and legs were killing me! Oh well, it was worth it! Who wouldn't love/enjoy great friends, live music, shopping and tons of laughs?? Not anyone I know! I had a ball traveling with Rica too and can't wait for our next adventure! When and where will we go next??? Who knows! Stay tuned!!