I just thought I'd give a bit of a personal update on what's been going on with me…

If you're a regular, you can see I've trying to step up my writing in the last few months. I went through the absolute WORST writer's block you could ever imagine. I wouldn't even call it writer's block; my whole creative mind just disappeared and had no desire to write or do anything creative at all. Some of you may know that I had a death in the family and since then to say my world has been flipped upside down is an understatement. Even thoughts of shutting this site down swirled through my mind but as you can see, that didn't happen. I'm a little fearful to say that I'm back because I worry that the "writer's block" will return again but I am here. :) Thanks to everyone who encouraged me and to those who continue to support me.

The biggest news I have to share is about a month ago I became a member of SoulTracks.com's web team. I'm really excited about this and have already met some great folks and discovered new music so it's been great so far. You'll definitely see me blogging about some of my discoveries soon!

I'm definitely not much of a "girly" girl. If you know me, I've never been one to rock some heels or put on a skirt or a dress. Also my color palette of clothing especially when going out to a club/event usually consists of black or some other dark color. I think mostly it's because I don't like to stick out. I feel like I'm tall enough as it is (I stand at about 6 feet tall) so I don't want to wear heels and dark colors make me blend into the crowd more, I suppose. Over the last few months, I've started to embrace more of my feminine side. I'm not sure what started it but I'm trying to incorporate more color and prints into my wardrobe. Since May, I have bought a total of 3 dresses which is usually unheard of! Hahaha! I also bought a pair of not-too-tall heels that I managed to break in with not too much trouble and rocked them at a wedding recently. Here is a shot of me trying my best to be a "girly" girl: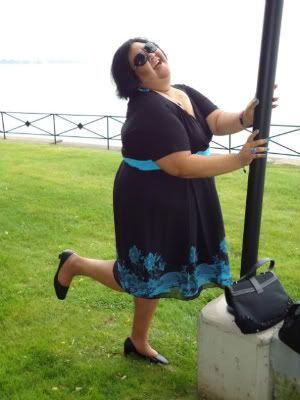 Of course, I'm still part of Darien Brockington's team. Things have been a bit busy lately. Darien's re-released his mixtape, The Cold Case Files. It's now available on iTunes, Amazon and hard copies are also available at Moods Music with more places to come. His first solo music video for his single, Rain is coming soon. I've written a little piece on that giving a little behind the scenes look here. Darien still tours with The Foreign Exchange and met up with him when they headlined at BB King's in NYC back in June. He also made appearances on a couple of albums and a music video but to avoid repeating myself, you can view info on those here, here and you can view the video here.

Lastly, I recently was asked by Matt, a friend of mine in the UK to do voiceovers for his mixtape! I didn't think I could do it because I wasn't sure if I could record it in decent quality but I found a way! I felt silly recording myself and I'm still laughing at the fact that I'm going to be on a mixtape but it's pretty cool. I will post details as soon as I get them of course! Stay tuned!